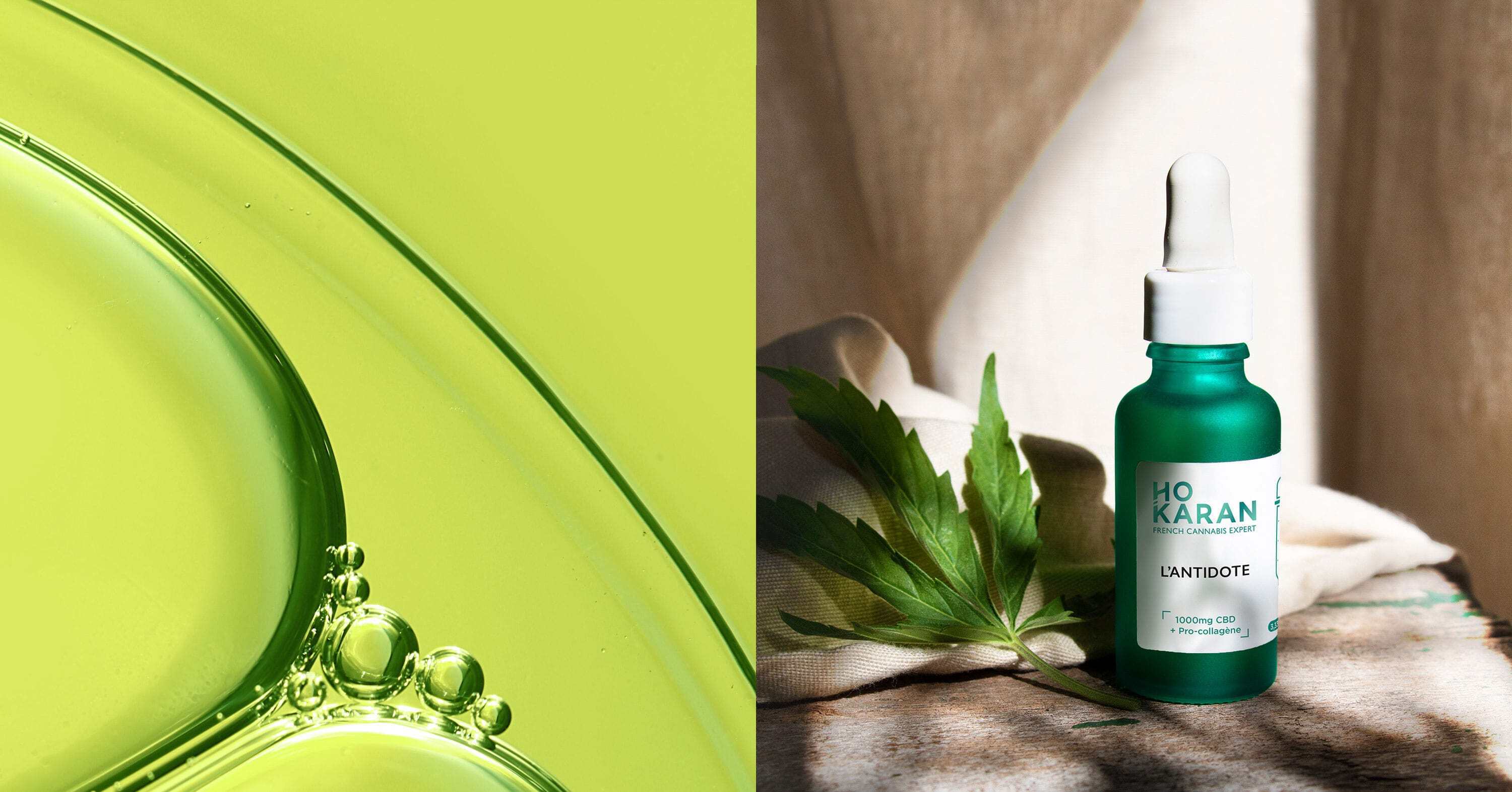 ---
---
Our flagship oil Holy Flow has had a makeover and is changing shape to become "L'Antidote", an elixir that can be used both as a classic serum, but also as a food supplement. Overview of its various benefits!
---
Our flagship Holy Flow oil becomes L'Antidote, a 2 in 1 CBD oil that can be ingested!
---
True innovation in the CBD cosmetics, The Antidote consists ofhemp oil enriched with CBD, to which we have added vegan pro-collagen to naturally boost its regenerating effects on your skin, but also on your body.
The double application, both on the skin and when ingested, reinforces its regenerating and soothing benefits to contribute to your external but also internal well-being.
---
An unmanageable cosmetic serum made in Brittany
---
As with all of our products, L'Antidote is made in France with 100% natural and vegan ingredients :
CBD dosed at 1000 mg: star active in our

care ranges

, CBD has many benefits for your skin. These have been recognized by several studies including one conducted in 2014

(1)

, who put forward the

benefits of CBD

on reducing inflammation of the skin when applied topically, on areas affected by acne for example. Other research has also shown a positive effect on repairing the skin barrier

(2)

. When used internally, CBD helps naturally reduce stress and anxiety, and promote overall well-being.
Marine microalgae extract: unlike the usual marine collagen which is extracted from fish scales, marine microalgae extract is 100% vegetable and therefore vegan. This active naturally stimulates the production and synthesis of

collagen

in the body, thus helping to preserve the suppleness and elasticity of the skin.
Organic cannabis sativa oil: the benefits of

organic cannabis sativa oil

are no longer to prove! Rich in essential fatty acids, it has a very good affinity with the skin and penetrates very quickly without leaving a greasy film. Fatty acids are provided exclusively through food, because our body does not know how to manufacture them. it is advisable to consume a maximum of 5 times more omega-6 than omega-3, whereas currently we consume 15 times more!
Cannabis sativa oil also contains vitamins to help reboost the skin and restore radiance.
Organic plum oil: like

cannabis sativa oil

, plum oil provides nourishing benefits to the skin and fights against dehydration and loss of elasticity. It is also a lightly scented vegetable oil that recalls the taste of frangipane, which gives the Antidote a very pleasant flavor!
---
What are the benefits of L'Antidote and how to use it?
---
Applied at a rate of 4 to 5 drops, L'Antidote is a concentrate of active ingredients which helps to fight the visible signs of stress.
Day after day, say goodbye to dehydration, dullness, redness and blemishes! The combination of natural ingredients rigorously selected for their benefits by our team of experts in pharmacy and nutrition helps naturally fight against the signs of skin aging thanks to this unique complex. antioxidant and regenerating.
Le L'Antidote CBD serum can be used in two ways:
In : interferes like a CBD oil classic. A few drops under the tongue are enough before going to bed or during times of stress to fight anxiety, promote sleep and recovery. It also helps strengthen the skin at the cellular level for firmer and hydrated skin thanks to the HO KARAN pro-collagen innovation.
Out : can also be used on the skin, 4 to 5 drops on the face, rather in the evening, to regenerate it in depth. The serum fights the signs of stress and pollution: dehydration, loss of radiance, dull complexion, redness and imperfections but also loss of youth and marks of expression.
Find theCBD oil The Antidote on our store, to be combined with other products from our skincare ranges adapted to your problems.
---
---