Weight, problematic, intensity ... All you need to know to ingest the right amount of CBD to calm down whatever the moment of the day.
---
---
Whatever your problem (menstrual pain, muscle pain, anxiety, stress, insomnia), CBD is now part of your routine!
Since 2015, convinced of the soothing properties of hemp (and in particular CBD), we have injected cannabidiol - one of the molecules derived from hemp - into our treatments such as the Miracle Balm, Libertine Oil, Day Over or Cannabooster serum Reboot). Applied to the skin, CBD has many skin benefits ! Anti-inflammatory, antioxidant and balancing, the molecule takes care of all skin types, even the most sensitive. Antidote, our Broad Spectrum 5% CBD oil, is a hybrid, 2 in 1 treatment, since it can be applied to the skin as a deep antioxidant treatment, and can be ingested like a sublingual CBD oil to calm pain. and anxiety.
Little reminder : CBD is legal in France and not psychotropic (unlike THC), this molecule is psychoactive, like caffeine for example. By acting on the nervous system, CBD helps relieve chronic pain, anxiety and nausea. Our treatments (Antidote included) are formulated with 100% natural ingredients, made in France and guaranteed without THC.
---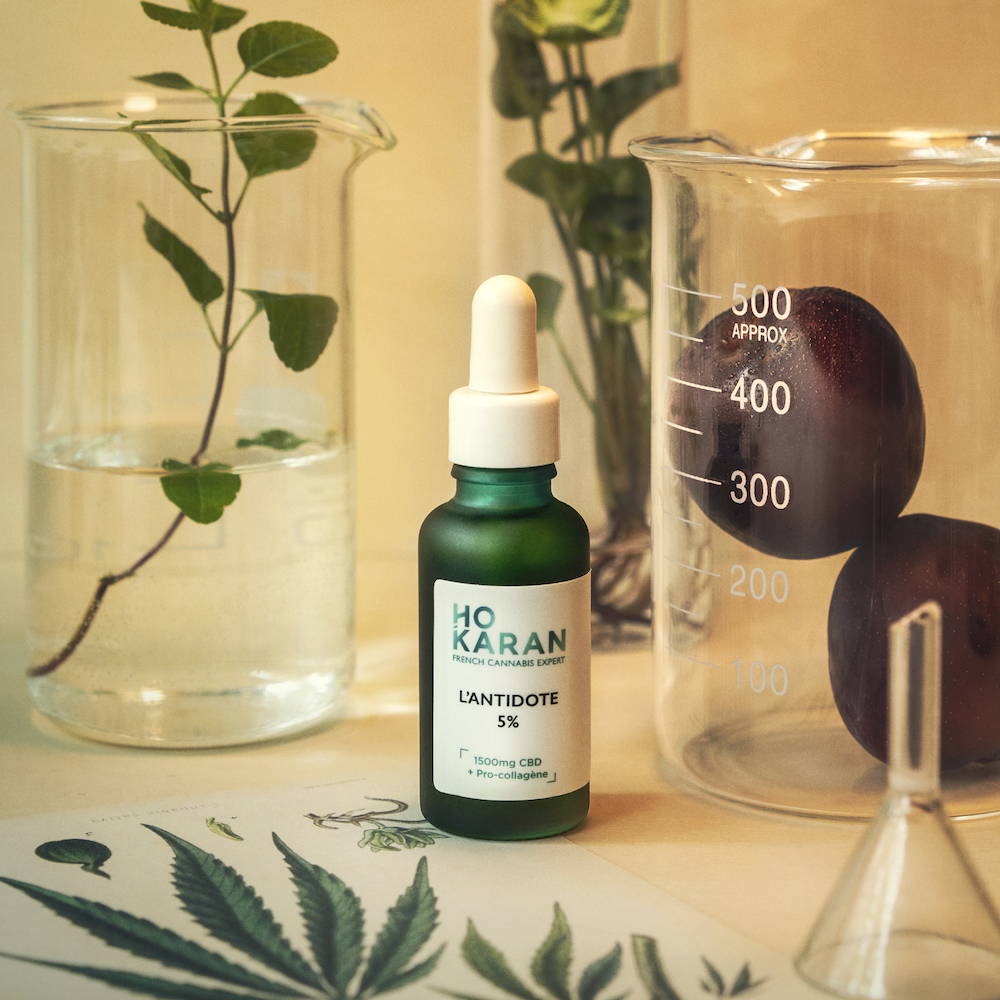 ---
Already followers? You may have found the dosage of CBD that's right for you, and while it's very personal, you may sometimes hesitate depending on the intensity of your symptoms. For the past few weeks, for each order of theAntidote 10ml or 30ml, we slip you a dosage card. A tool developed by popular demand to give you maximum guidance when taking ingesting CBD, according to research by experts Leonardo Leinow and Juliana Birnbaum in the book "CBD: A Patient's Guide to Medicinal Cannabis".
For the Antidote broad spectrum 5% (find out more about the CBD broad spectrum here), it all depends on your weight, your problem and the desired effect.
For example, in the event of insomnia, peak stress (before an important meeting, a job interview, a takeoff, a key meeting ...) a 60kg person who would like an intense effect will take 14 drops, or 14mg of CBD . In case of pain, menstrual for example, a person between 75 and 85kg will take 17 drops (43mg) for slight effects.
---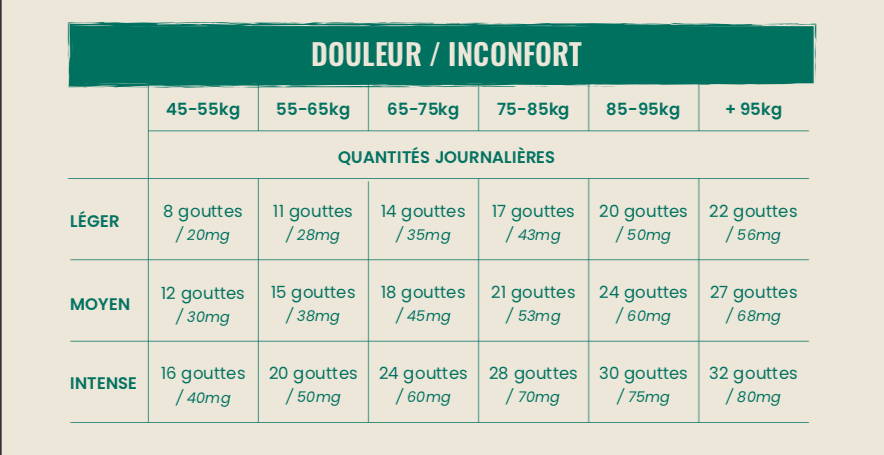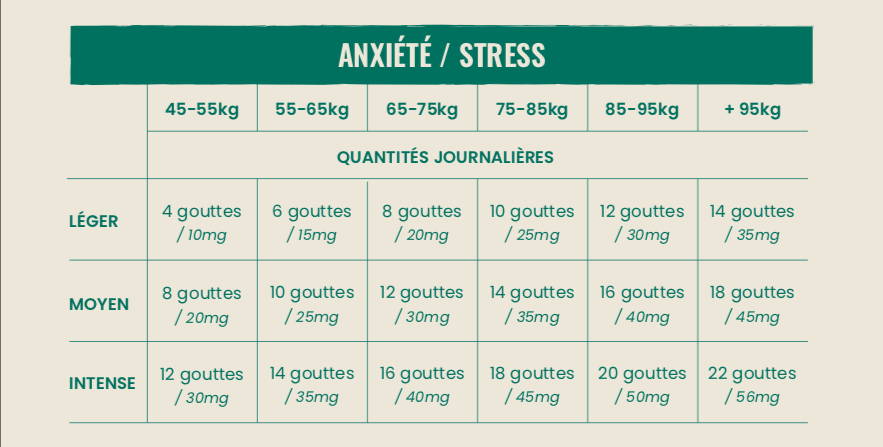 In a large 30ml Antidote there is 1500 mg of CBD. One pipette, or 25 drops, is equivalent to 62 mg of CBD.
---
How to take CBD by ingestion?
With the pipette, take a few drops to place them directly under the tongue and wait 30 seconds before swallowing. The membrane being very fine at this location, absorption is very quickly
How much CBD to start with?
The antidote allows you to fully understand the effects of CBD and to modulate your daily use. 2-3 drops will get you an average dose of 5mg of CBD, which is a good dose to start with. You can then increase or decrease this dose according to your feelings.
What is the maximum daily dose of CBD?
Beyond 300 mg of CBD per day, depending on weight, slight side effects are noted such as drowsiness and / or mild diarrhea depending on selon le Professional Hemp Union
---
---
Other questions you often ask us about ingesting CBD:
Can I give my child CBD?
Even though our 5% broad spectrum CBD oil is natural, non-psychotropic and largely organically grown, to date, no scientific study has allowed us to validate its use on children when ingested. We will answer you in more detail just here.
Can I take CBD if I am pregnant or breastfeeding?
It is not recommended to use CBD while breastfeeding, although it is not strictly prohibited either. In general, cannabis and its derivatives are not recommended for pregnant women. Studies are still too rare to be able to give a clear ruling on this subject. This question nevertheless raises interesting points about the human body: for example, cannabinoids seem to play an important role in the development of the fetus and its evolution. This is why our body produces its own cannabinoids, the "endocannabinoids". These molecules are naturally found in abundance in breast milk, which seems to indicate that they play a major role in the development of the baby. For information, the most abundant endocannabinoid in breast milk is 2-arachidonoylglycerol (close to CBD). However, this whole process is regulated in a natural way. The relevant authorities therefore recommend that you exercise caution when consuming CBD during pregnancy or breastfeeding. To go a little further: all our products are natural, so we use a natural fragrance worked from cannabis terpenes (for its relaxing properties) which falls under the classification of essential oils. They are present in very low concentration because we put very little perfume in the care. However, still as a precautionary measure, it is recommended to test the products on a small piece of skin initially and to be vigilant for pregnant women even if no product is contraindicated for pregnant women from a point of view. toxicological. However, we do not recommendPure essential oil pregnant women as well as ingested CBD simply for lack of scientific hindsight.
Can I give CBD to my pets?
The cosmetic tests that we carry out allow us to validate use on humans. We have not taken steps with veterinarians, so we cannot commit to this, even if the use of CBD across the Atlantic is indeed increasingly oriented towards animals.
You will understand, new to CBD, start crescendo to adapt the dosage that suits you best. In case of pain / discomfort, or anxiety and stress, refer to the table above for an effective and fairest dosage possible - without waste or underdosing!
* If symptoms or pain persist, see your doctor.
---