Pierre-Yves Normand is a chanvrier in Brittany, and has been for 20 years! It is he who cultivates, in part, and provides us with the raw material at the origin of all our care. This passionate producer tells us about his job, the thousand and one possible uses of this naturally ecological plant in several industries. It also sheds light on how we get CBD, vegetable oils, and essential oils from our favorite plant. Meeting with our first expert.
---
What is your profession ?
I have been a hemp harvester for 20 years. To be a hemp plant is to know how to cultivate the "hemp" plant. We therefore know how a seed grows, how to plan and dry them, how to transform matter into protein, flour, oil or cannabinoid powder. Cultivating, transforming, drying, conditioning, it's a bit my daily life! And then of course, afterwards, you have to know how to market the raw material with all the standards to be respected on the market.
How is hemp an ecological plant?
It is the ecological plant par excellence! Long forgotten, it has never been transformed and grows today almost without fertilizers, pesticides, insecticides - it has no predators. It is also said to be ecological, thanks to its taproot, which decompacts the soil, aerates it and allows biodiversity to re-develop to have living soil. And the best part: it does not need watering, so no water either! It grows in the arid mountains of Morocco to the fields of Brittany (although the yields will obviously differ). In short, it is a plant that takes care of itself!
Which parts of hemp are interesting to use in the wellness sector?
The great thing is that you can use the whole plant.
- The roots can be crushed to make poultices
- The rod will be transformed to make wire for fabrics or shavings for insulation.
- The flower contains cannabinoids, flavonoids and essential oils. It is in fact in this part that we will come and collect micro-beads (microscopic) called trichomes. They contain a lipid envelope endowed with the famous "well-being" molecules. The envelope protects these molecules - hence the need for manual harvesting to preserve exceptional quality for health, well-being but also in food, cosmetics and therapeutics (note: Dr Pascal Douek enlightens us on the advances of therapeutic cannabis in France this way).
Come to think of it, this multi-purpose plant was banned for years, just because of those micro-beads that contained a little THC!
---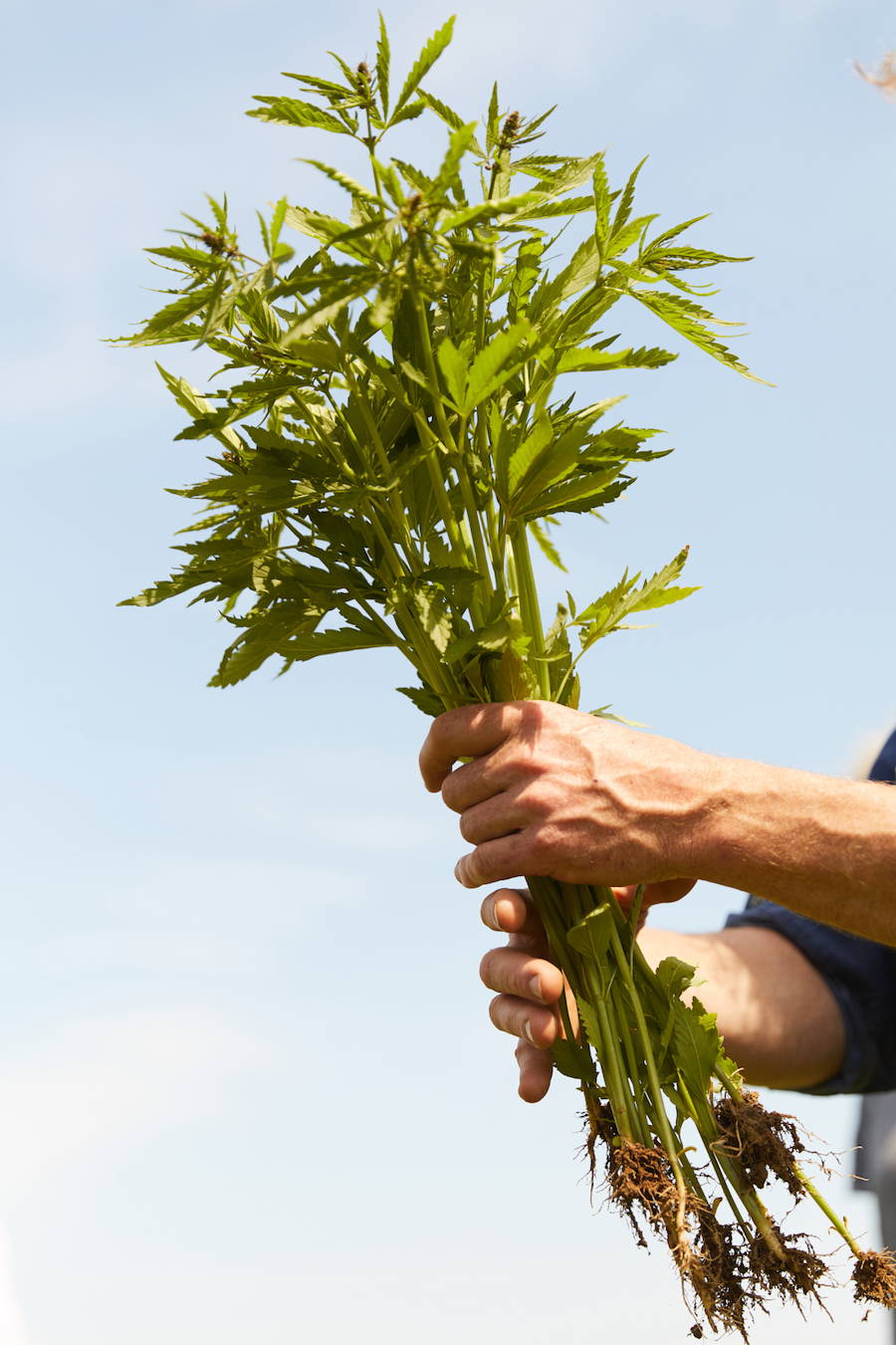 ---
Why is hemp a soothing plant?
What is interesting in hemp, level of well-being, are these famous flavonoids which contain molecules and which allow the body, moods, to regulate, but also to promote relaxation, soothe cramps , muscle pain and certain illnesses. We also have vegetable oils from the pressure of seeds which contain omega 3 omega 6, and 11 amino acids that the body is not able to manufacture. We talk a lot about the CBD molecule, but there are plenty of others to discover such as CBC, CBN, CBG - an exceptional panoply for well-being and without therapeutic contraindication. Even if hemp grows in France, we are obliged to source CBD internationally (note: for example in Switzerland) for legal reasons *
*In France, it is legal to grow hemp (or cannabis) if it contains less than 0,2% THC. This is the case of the Pierre-Yves fields in Brittany in particular - where a different variety of the plant grows than that used for recreational use, with a much higher THC rate). On the other hand, a decree in the Public Health Code stipulates precisely "the cultivation, import, export and industrial and commercial use (fibers and seeds) of varieties of Cannabis sativa L are authorized". The flower is not mentioned, hence the legal vagueness and the many battles of the Professional Hemp Union of which Laure, founder of HO KARAN is part.
How do you get hemp oil?
Directly in the seeds. They are squeezed to get the vegetable oils out, and the essential oils are also steamed in the distiller from the fresh plant. *
* Did you know: it takes about a ton of material to make a liter of hemp essential oil!
And how do you get CBD?
We will dry the plant, grind it, sift these famous trichomes to obtain powder rich in cannabinoids. To extract the latter (with the entourage effect, so with CBG, CBC etc.), we can dilute them in oil to make massage oils for example, or extract them with solvents but we prefer the method traditional. Another solution, to isolate the CBD and only obtain this molecule, you have to go through machines with CO2 (a neutral gas) that hang the CBD, to be extracted with vials.
What do you think is unique about HO KARAN?
Already, the fact of using hemp, which is a unique plant with a thousand and one uses! And at Brittany Chanvre Development, it has been 20 years that we believe in the benefits of this plant. Our ancestral know-how comes to us from our great-grandparents. Laure's grandparents were also hemp growers! And the latter is Breton like me (laughs). It is the first to be launched on the market in 2015 with this product quality. Natural materials, a certain search for perfection and even eco-responsible hemp-based packaging. It is not just a commercial approach, there are real values ​​associated with this project and I am proud to collaborate in this way with the brand!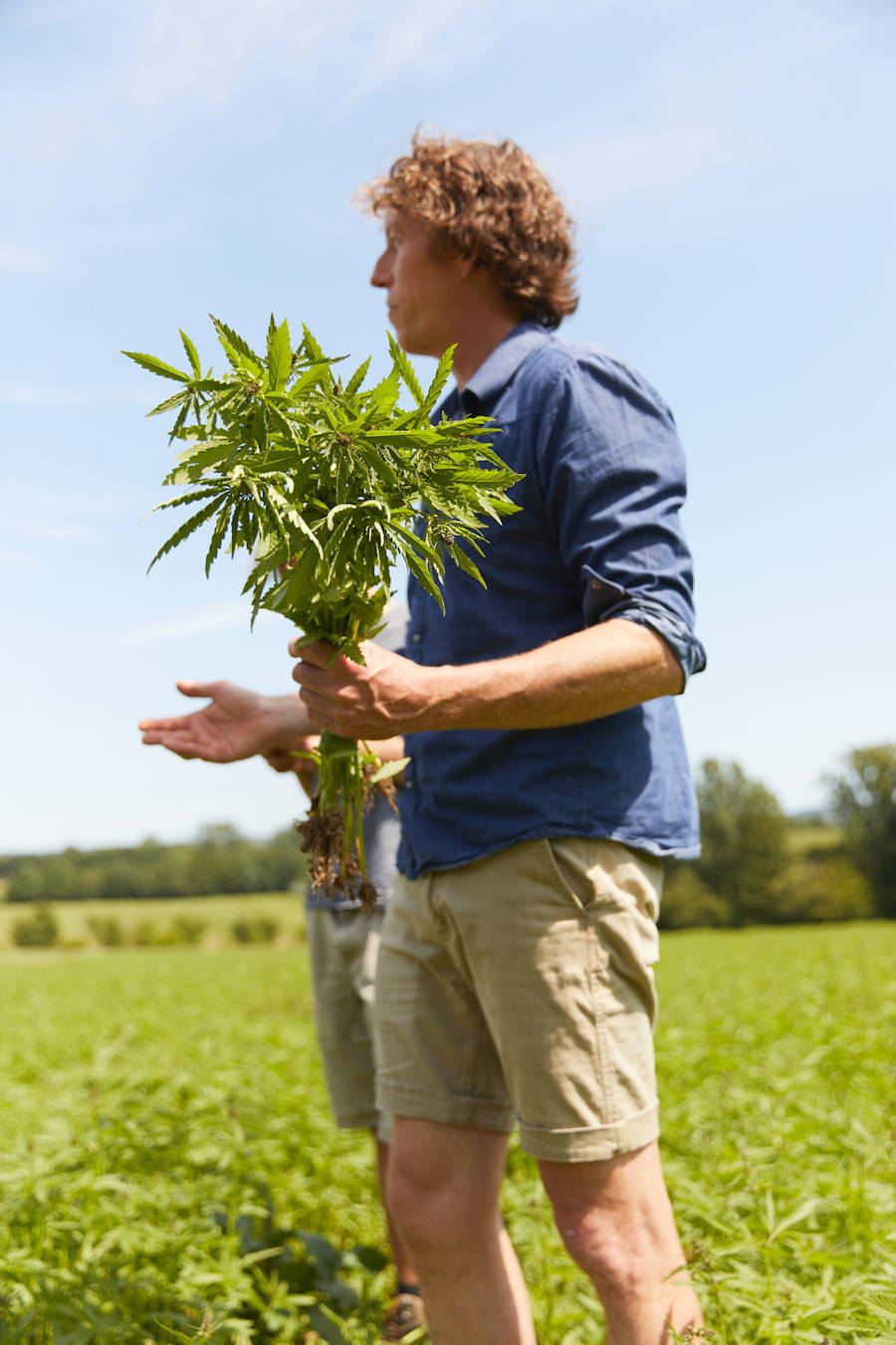 ---