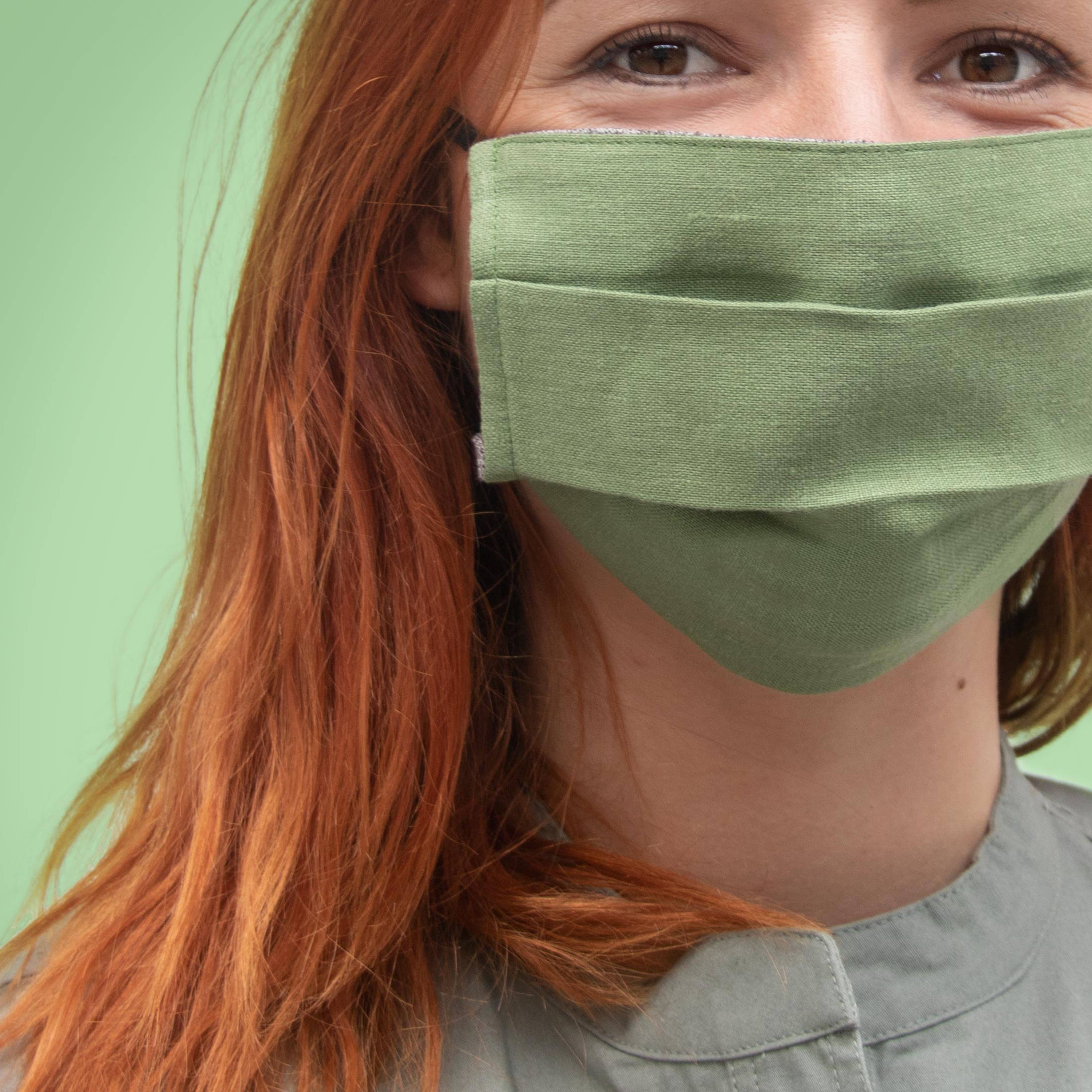 ---
---
Worn all day and every day at your workplace, during your shopping, in the street, and we finally hope, soon in cultural places that may reopen, wearing a mask has consequences on your skin: this one breathes less well, imperfections and irritations can appear. Discover our advice and our beauty routine to naturally limit their appearance and regenerate your skin!
The effects of prolonged mask wear on your skin
Not really integrated into our culture a little over a year ago, the mask, which has become mandatory in public places, at work, and widely recommended if you see your loved ones. And many of you are seeing the effects of prolonged mask wear on your skin, and to discover new skin problems.
This phenomenon appeared from the deconfinement last summer even has a name: the masked ! Wearing a mask indeed causes the more frequent and more significant appearance of imperfections, because of the heat and humidity which settle inside the mask. The skin breathes less (especially when it is hot!) And is accentuated by the rubbing of the mask on the face, which can also create minor irritations.
Acne related to wearing a mask is identified quite easily: microcysts or small white pimples are present mainly under the exposed areas: chin, wing of the nose or even the middle of the cheeks.
Worn every day, the mask can create real skin disorders, more or less important: increase in the production of sebum, imbalance of the pH of the skin, seborrheic dermatitis or even rosacea can be among the most frequently encountered skin problems.
Good to know: if you smoke, the reflux of tobacco, trapped in your mask, does even more damage to the skin.
READ ALSO: Adapting your routine to prevent blemishes
How to limit the appearance of pimples and irritations?
Choose your mask carefully
Whether surgical or fabric, the composition of your mask has a direct influence on the appearance of imperfections. In addition to generating a impressive amount of waste, the surgical mask seems to create more irritation than the cloth mask because of its polypropylene material.
A real alternative to the most popular masks, HO KARAN has joined forces with the French brand Patte de Loup, specializing in the design of hemp textiles.
Our barrier masks available in several colors all comply with AFNOR specifications, and are made from cotton and hemp to combine comfort and protection. Hypoallergenic, they are also antibacterial and respect the most sensitive skin. Like all fabric masks, they can be washed at 60 ° and are reusable.
After wearing your mask, it is also important to clean it well to eliminate the bacteria present inside, for example, with our new cleansing routine morning and evening. In between ports, you can also spray a little rubbing alcohol on it before putting it back on.
Go for light makeup
Le wearing a mask prevents your skin from breathing well, which is why it is also essential to review your make-up habits, especially with regard to the complexion.
Swap your traditional foundation for a ultra-light mineral powder and mattifying, which will let your skin breathe and limit inflammation.
Also take care of your lips: if applying a moisturizing and protective balm is recommended daily, it is even more so with the wearing of a mask, which dehydrates them even more.
ALSO READ: The Benefits of CBD on the Skin
Adopt our 2 barrier mask face routines to fight against irritation and pimples!
Wearing a mask shakes up your beauty and make-up habits, hence the need to opt for a adapted care routine.
When you return from vacation, the skin is already prone to the appearance of imperfections. Wearing a mask accentuates this phenomenon even more!
To help you take care of your skin, we've launched two skincare routines specifically designed to avoid the appearance of imperfections and to limit irritation :
1. Boost your skin and limit blemishes with Cannabooster Detox
HO KARAN best seller, the Cannabooster Detox serum apply on the face at a rate of one to two drops, mixed with your usual moisturizer.
A real shield, it protects the skin from the effects of pollution and oxidative stress. This detoxifying treatment contains terpenes naturally present in cannabis, which deeply purify the skin. Combined with the zinc astringent complex and eucalyptus leaves, the Cannabooster Reboot fights effectively against the appearance of imperfections and clogging of skin pores while hydrating sensitive and dehydrated skin.
2. Protect yourself and others with our barrier masks
Designed in hemp textile, our two kits contain two barrier masks in gray and green to allow you to always have a mask available. Remember that the mask should not be worn more than 4 hours in a row during the day !
3. Cleanse your skin well before and after wearing the mask

It is the essential step in the beauty routine of healthy skin, and probably the favorite of Laure, founder of Ho Karan. Based on hemp, our duo of cleansers cleanses the skin in depth without stripping it, and is designed to be used every day, morning and evening, whatever your skin type!
4. Regenerate your skin and calm irritations with L'Antidote
For an anti-irritation skincare routine, apply a few drops of our scrunchie L'Antidote present in our new skincare routine: a real soothing and regenerating elixir, it contains'hemp oil enriched with CBD combined with vegan pro-collagen to reduce skin inflammation and repair the skin barrier.
More than an exceptional cosmetic treatment, Antidote can also be taken as a dietary supplement to help reduce stress. Very useful for limiting the effects of the approaching change of season and the stress of the recovery in this particular health context!
---
---
---
---