Curly hair has its particularities, and the care you give it must be specifically adapted. Fragile, they require the greatest gentleness. Whether they are wavy to frizzy, passing through more or less curly, exceptional qualities of hemp oil will know enhance the natural beauty of your curly hair !
---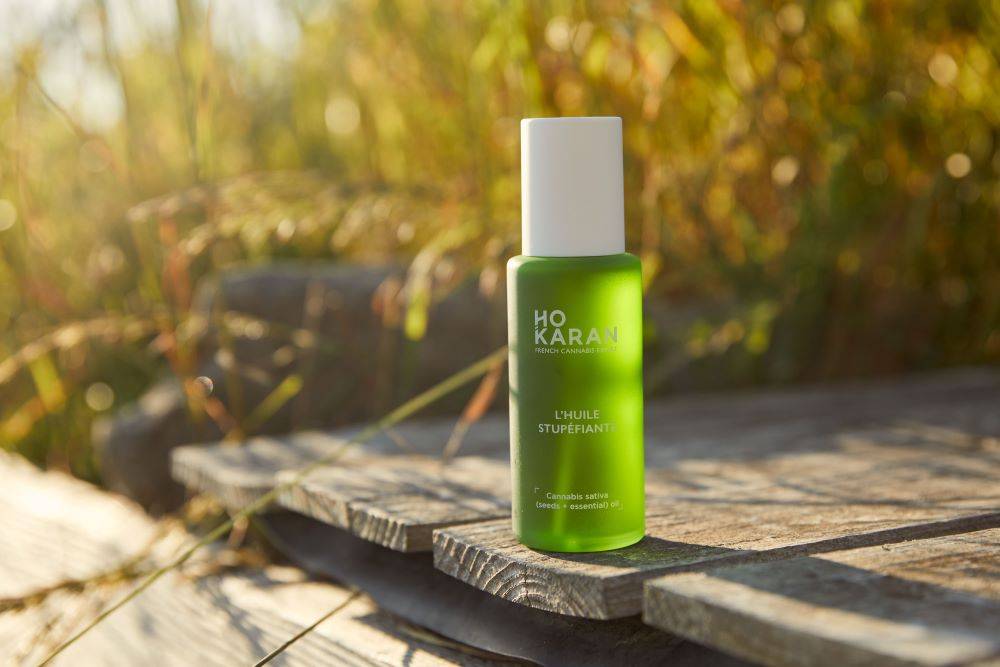 Photo credit: Charlaine Croguennec
---
Hemp oil is from the hemp seed (the name of the seeds of the cannabis plant). Thanks to the technique of cold pressing of these seeds, a guarantee of quality, the many nutritional qualities hemp oil are preserved (learn more about HO KARAN hemp oil extraction, with our hemp expert Pierre-Yves Normand). It contains a large proportion of omega-6 and omega-3 polyunsaturated fatty acids to the properties anti-inflammatory and optimal absorption capacity. There are also vitamins of type B and E, to the virtues antioxidant.
Well known in the culinary world, this dark green vegetable oil is not only the ally of your mixed salads, but also that of your skin and your hair!
Hemp oil and cosmetic properties
In HO KARAN treatments, hemp oil from biological quality constitutes a basis rich in cosmetic benefits, as much for your skin as for your hair or your beard. It has a strong affinity with them and penetrates quickly, thus multiplying the effectiveness of its properties. It is found in particular at the base of our Amazing Oil multi-purpose, for its protective, nourishing and softening properties. She forms a protective barrier supporting the hydro-lipid film (a skilful water/fat mixture naturally present on the surface of the skin) which is sometimes over-stressed and no longer fulfills its primary function. On the same principle at the capillary level, hemp oil is placed in the hollow of the hair scales, thus restoring its shell balanced in hydration and nutrition, for sheathed and healthy hair.
---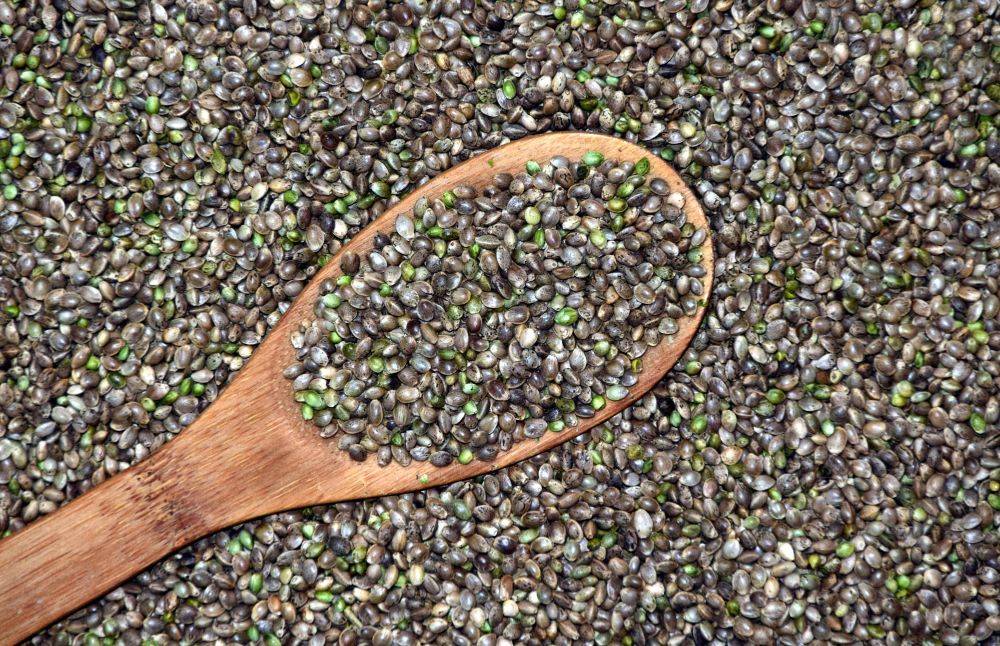 ---
Hemp oil, care for curly hair
Naturalness in your curls
Hemp oil falls into the category of vegetal oils, so it is of natural origin. Chosen from the first cold pressing, its nutrients are preserved, it is then a concentrated assets. Used for its cosmetic benefits in a "pure" state, hemp oil has the ability to regenerate the hair fiber. She not only acts as a protective care but also repairer, supporting the long-term health of your curly hair. In comparison, a so-called "chemical" (mineral) oil will tend to only surround the hair like a surface varnish. Your curly hair is beautiful and shiny in the short term, but this type of oil is occlusive and therefore prevents the hair from breathing. Smothered, your curly hair can become heavy and sticky, lacking shine.
Besides, the pros like Laureen from La Belle Boucle (@labelleboucle) advise all curly hair to start with a Clarification (hair detox based on clay for example). The latter makes it possible to start a transition to natural (if you haven't already!), and start off with a good base of natural care.
A dull, fluffy mane with frizz? Your curly hair is certainly dehydrated, they struggle to retain water within their protective scales!
In this case, hemp oil is effective for support the barrier function of your hair fibers, sometimes failing due to internal factors, external aggressions and/or an unsuitable routine. Thanks to its composition rich in fatty acids, it naturally helps curly hair to maintain their hydration level, forming a protective shield all around. Jérémie, curly hair expert in Chosen enlighten us: "The oil prevents all external aggressions from attacking the hair, so it is essential. Hemp oil gives elasticity, a lot of shine, volume and real protection."
Laureen (@labelleboucle) recommends favoring a fine-textured vegetable oil like hemp oil, for a lightly hydrated hair. Indeed, hemp oil has a low density because it has a composition similar to that of human sebum, which makes its texture so pleasant. Whether your hair is curly or frizzy, it brings shine and volume to fine hair without leaving a greasy film and penetrates easily into thick hair. Laureen likes to use hemp oil without rinsing as protective oil, at the end of her curly hair routine. A few drops applied with the fingertips on its lengths are enough to enhance your hair !
Nutrition for more softness

Brittle, split and dry hair is often a sign of a lack of nutrition. The sebum then no longer plays its role of lubricating the hair fibres. Indeed, this one being produced at the root, the difficulty for him is to go down well all along the curly hair. Its descent is easily slowed down by the curving movements of curly hair, thus causing dryness on the lengths. Hemp oil is a valuable aid for overcome this imbalance et regain flexibility in your loops. Combined with other vegetable oils of quality (Inca Inchi, jojoba, hazelnut, grapeseed, camellia and sunflower) in our Amazing Oil, hemp oil works in synergy to nourish and soften your curly hair.
Taking care of your curly hair is also pampering your scalp
Hairdryer, repeated straightening, tugging due to detangling, chemical treatments... the scalp of curly heads can also be put to the test. Results ? A weakened scalp, and repercussions on the health of your curly hair (hair loss, hair without shape, elastic). Thanks to that high in antioxidants, hemp oil protects your hair fibers from heat et promotes cell regeneration on your scalp. In addition, in case of eczema, psoriasis, dandruff or greasy roots, hemp oil helps to rebalance your scalp et appease him thanks to its sebum-regulating and anti-inflammatory properties*. So don't hesitate to pamper your scalp, for example by styling your locks with your fingers like a comb. Do it upside down, starting from the tips and all the way to the roots, for a self-massage subtle but effective!
---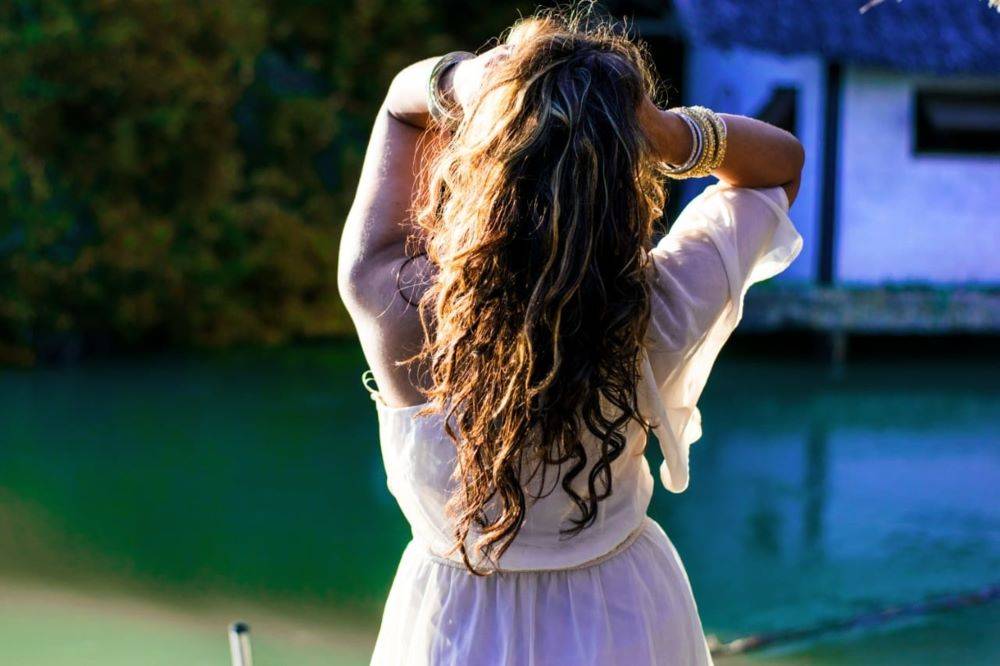 ---
The possible uses of hemp oil to take care of your curly hair
Hemp oil is excellent for stimulate the growth of curly hair because promotes the production of keratin thanks to its natural proteins. apply a few drops of hemp oil at least twice a week on your scalp, without rinsing. Take the time to do a little massage in circular movements with the pulp of the fingers, to stimulate blood circulation. A well-oxygenated scalp stimulates cellular exchanges and therefore promotes faster growth of your curly hair.
As aurane (@aurane.k), use hemp oil as a mask on your lengths for their bring radiance and softness. The oil bath can also be carried out on the roots and up to the ends according to the needs. Adjust the amount of hemp oil depending on the texture of your hair. apply on damp hair and leave it at least 1 hour or even overnight in a microfiber type towel before shampoo.
Jérémie (Chosen) would like to point out that for the oil bath for frizzy hair, "you need a lot of product, you shouldn't be afraid to put it on!"
À the end of your routine styling, hemp oil seals in hydration within your curly hair. Put a few drops of hemp oil in the palm of your hand, heat it for more efficiency and apply it by small touches on your lengths and ends.
Le final essential skincare tip from our curly hair expert Jérémie (Chosen)? "When you do a wash-out treatment, don't over-rinse it. And add more afterwards for styling. It really is THE gesture that can change everything! "
---
You would have understood it, all types of curly hair find their happiness with hemp oil. True nourishing, protective and regenerating ally, do not hesitate to integrate hemp oil into your hair care routine, to take care of your curly hair naturally.
---
---
---