A seasonal bowl to approach the fall concocted by the chef Fanny Corre of Persil & Mimosa. Easy to prepare, great for a quick lunch, and packed with anti-acne foods.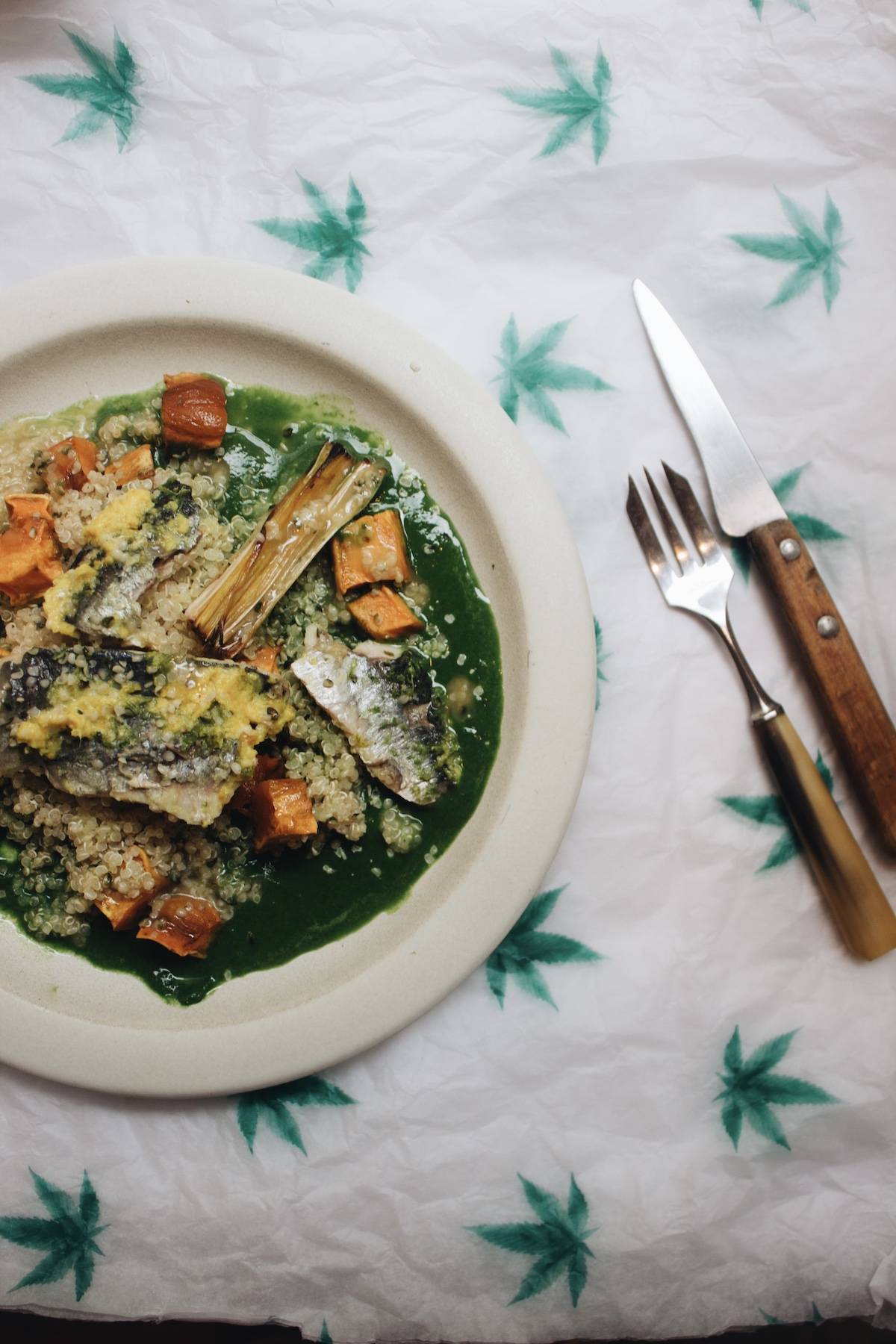 Ingredients (for 2 bowls)
- 200g of raw quinoa
- 125g of baby spinach
- 1 medium sweet potato
- 1 leek
- 1 can of whole sardines or fillets in their natural state
- 1cm of ginger
- 1 lime
- 1 orange
- 1 clove of garlic
- Olive oil / salt / pepper / Tamari
1 - Clean and cut the leeks in half lengthwise and into 3 cm sections, peel and dice the sweet potato and roast for about 20 minutes in the oven at 180 degrees.
2 - Cook the quinoa in water for 10 minutes.
3 - Boil the spinach leaves in water for 1 minute and then immerse them in ice water to keep a nice green color, then mix in a food processor with olive oil, salt, pepper and a touch of tamari.
4 - Take the sardines out of their box, drain them. Make a small express marinade with: ginger, garlic, lime zest and juice + a little olive oil and pour it over the sardines.
5 - Make the vinaigrette by mixing olive oil with the
hemp seeds
, and orange juice. Adjust seasoning. Then add a few drops of
Antidote
(our CBD oil 5% broad spectrum) for a zen effect.
6 - Dress by starting with the spinach coulis, then the quinoa, the vegetables, the sardines and finally the CBD vinaigrette.
"If I chose these ingredients, in addition to being delicious, it is because they have beneficial effects on the skin and in particular on acne problems. Sardines are rich in omega-3s and play a role in reducing pro-inflammatory molecules that can worsen acne. Like all orange-colored vegetables, sweet potato contains a lot of beta-carotene, which is converted by the body into vitamin A. It also fulfills the function of blood control. excessive production of sebum, one of the causes of acne. Many studies show a positive correlation between the consumption of refined grain products and acne breakout. Thus, bread, cookies and white rice are swapped for whole grains such as bran, brown rice, rye, quinoa and so on, just like in this recipe! These little mines of vitamin C won't cure your breakouts, but because they strengthen cell membranes, they can help prevent acne scarring.
Leafy green vegetables provide us with abundant chlorophyll, vitamins, minerals and fiber. The vitamin E they contain acts as an antioxidant and promotes the healing of lesions and scars caused by acne. "
Read also : Food: all anti-acne foods
The Antidote - CBD Oil 5%
- By ingestion: relieves stress and anxiety, improves sleep and sleep quality, relieves mild pain

- In topical application: anti-aging, anti-blemish, soothing properties
Naked Seeds 150g - Shelled hemp seeds
They are rich in omega-3s and amino acids that promote muscle building and repair. Its essential fatty acids affect the quality of the skin, stress and hormonal balance.
---
---
Discover our range of groceries, for healthy and gourmet recipes!