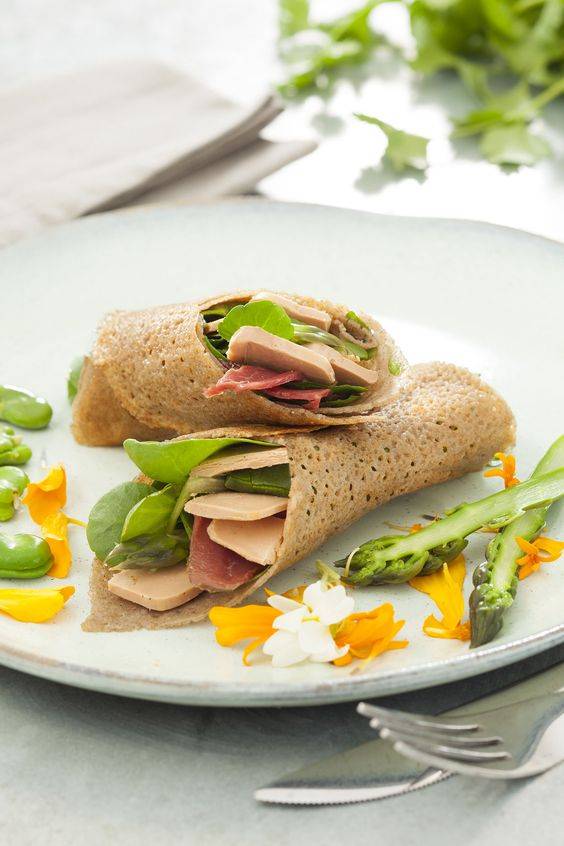 ---
---
---
Hemp is one of the first plants that man was able to domesticate during the Neolithic period. Its origins would be in Asia and India, before having followed man in his numerous migrations around the world. An oil rich in various nutrients and fatty acids is extracted from it. Dark green in color, the oil from hemp has a characteristic odor reminiscent of freshly cut grass. Its taste is typical of the seed and has hints of grass and hazelnut.
On the occasion of the "Skin and Body care week", we collaborated with the great team of girls Chicken Bacon Lettuce and they were kind enough to share some of their recipes with us…
Wraps buckwheat mushrooms sautéed cream cheese whipped with hemp oil and fresh herbs
For 12 pieces:
/ 3 buckwheat pancakes
/ 150 gr of fresh cheese (philadelphia, bush, ricotta or fresh goat cheese)
/ 1 tablespoon of hemp oil
/ 4 branches of parsley or chives or basil according to your tastes
/ Salt
/ Pepper
/ 350 gr of mushrooms (paris, chanterelles, shitakes, chanterelles)
/ 1 half clove of garlic
/ 1 handful of hazelnuts (optional)
Thoroughly wash the 350 g of mushrooms and slice them.
In a pan with a little olive oil and sauté the mushrooms with the chopped half clove of garlic.
Season with salt and pepper.
Book.
For the cream cheese, whip it with 1 tablespoon of hemp oil and season again if necessary.
Add the finely chopped fresh herbs
Mounting :
Spread the buckwheat pancake on a clean, dry work surface
Start by using a spoon (better still a pastry bag) to put the cheese along the pancake at the bottom of it. Leave a margin of 2 cm.
Put a good layer of mushrooms on top and some roasted hazelnuts
Roll the galette tightly. Then close it with a little cream cheese.
In a pan with butter quickly sear the wraps to brown.
Leave to cool and then trim and cut the pancake into 4 sections to obtain nice, well-filled wraps that will stand up.
---