The Zen Zone is our column or well-being bubble on the HO KARAN blog, where inspiring personalities tell about their wellness rituals. After having exchanged with Charlotte, the founder of the Parisian hotel HOY (where is the No Stress Studio) and Fanny the chef of Parsley and Mimosa (who creates all of our hemp-based recipes here), and Ehsane the founder of Hygea, the first brand of adaptogenic herbal food supplements in France, we meet Laure, the founder of Carrés Sauvages with whom we have developed our CBD truffles for guaranteed stress-free parties.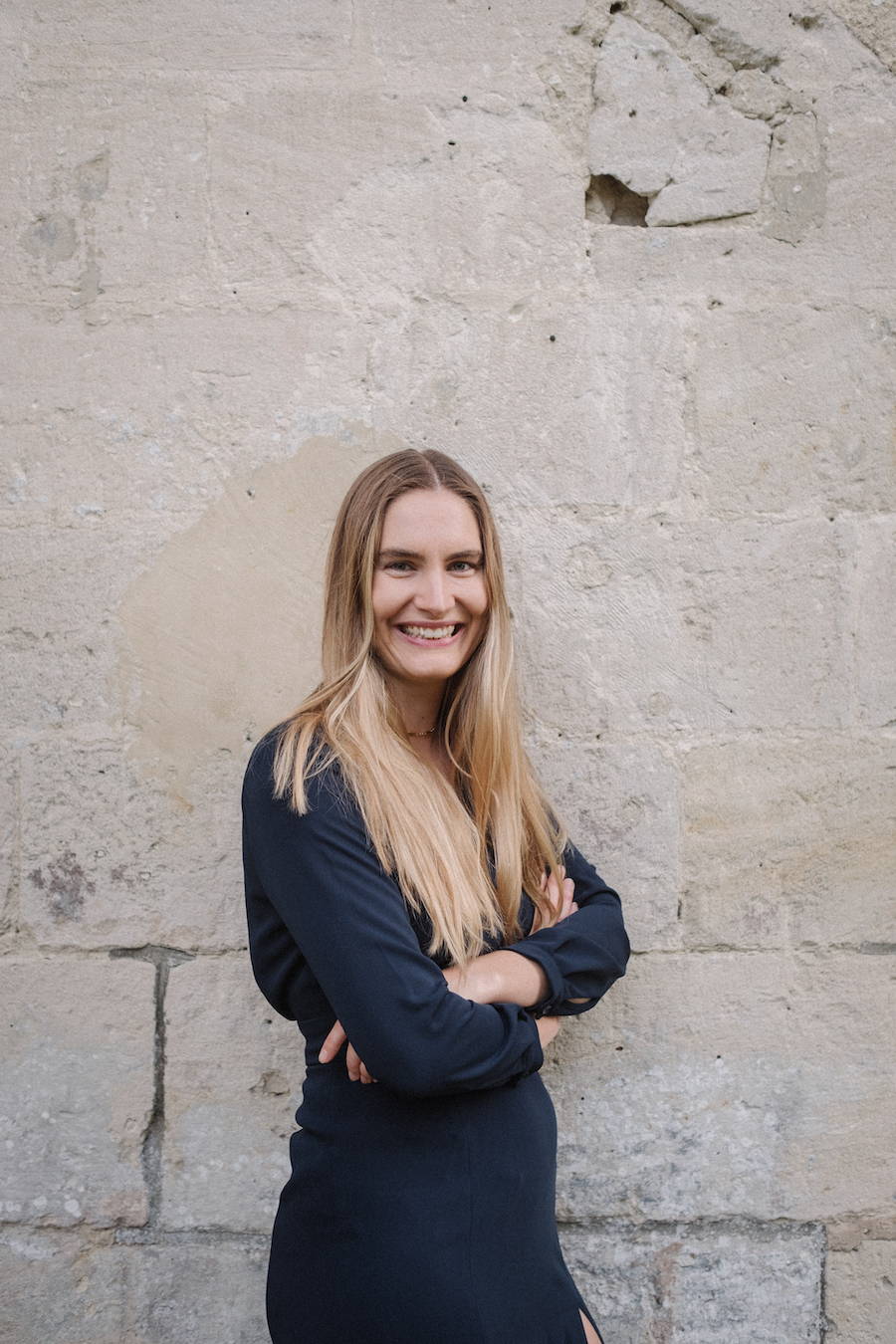 ---
What is your relationship to well-being?
It is central and one of my pillars for Wild Squares. And at the same time, we quickly put our well-being aside between an urban life and that of an entrepreneur. For me, it starts with food, but also sports, sleep, smile and see people we love.
What are the rituals that comfort you the most in winter?
A good hot chocolate and set foot in front of a wood fire with the family. I also love making myself creamy porridge in the morning in winter. I have a very simple and variable recipe. The base is 1 cup of oatmeal, 1 cup of water, 1 cup of almond milk. You put everything in a saucepan and bring to a low boil, stirring regularly. And very often, I pour the hot porridge on squares of @carressauvages chocolate so I have the melted chocolate at the bottom of the bowl and I garnish it with oilseed puree, seasonal fruits and cocoa nibs.
The holistic practice that changed your life?
Sea bathing and swimming in general. I find it is a time to cut everything. You can swim 10-15mn only, it feels really good! The sea is one of the elements that resource me the most. It might as well be a walk in the woods. Spending time in nature is essential for me.
What foods do you prefer when you are stressed?
- The chocolate which is super rich in magnesium and a comfort food par excellence is obviously one of them. As I consume it on a daily basis, I vary the pleasures.
- The rituals of adaptogen drinks of Maison Loüno are top.
- A homemade smoothie with banana as a base, blueberries or another seasonal fruit and an oilseed milk is also great for giving yourself a little boost while being very digestible.
- Quite stupidly, take a glass of water and making the effort to focus on that action can help reduce stress by becoming grounded in the present moment.
How is chocolate a natural stress reliever? What are the benefits of raw cocoa for body and soul?
Raw cocoa is packed with antioxidants (it contains many more than blueberries, green tea, or acai berries). It stimulates good mood, by boosting the secretion of serotonin, our hormone of happiness, well-being and satiety, which also helps us to regulate stress and emotional balance. Its contributions of magnesium, iron and zinc make it a valuable ally for the radiance of the skin and hair. There is also a psychological part in its anti-stress role: in general, it is linked in our memory to happy times.
How is Carrés Sauvages chocolate made?
The Carrés Sauvages chocolate is handcrafted from the cocoa bean, at low temperature and without refined sugar. First the beans are cracked to obtain the cocoa nibs, and then the nibs are crushed between two grindstones of granites which turn in the opposite direction to refine it. It becomes liquid. Sugar is added (for example, whole Java coconut blossom sugar as is the case for HO KARAN CBD truffles), when setting the aromas. Then add the other ingredients of the chocolate recipe if necessary such as cocoa butter for the fluidity of the recipe and help spread the aromas, an oilseed puree or spices. It is according to the recipe. At that time, the chocolate is done and we will temper it to freeze it in time and pour each bar by hand. If there is a topping, it is with the pouring that it is sprinkled. The last step remains the packaging, each bar is packed by hand, the same goes for the truffles. All the ingredients used come from organic and fair trade cultures. I do not roast and I work the bean at low temperature (below 42 ° C) to keep as much nutrients as possible. I do not use lecithin or artificial flavor. Each ingredient is there for its taste and its nutrients. The common thread of Carrés Sauvages is to do yourself good by eating chocolate.
---
---
An idea for a healthy and comforting snack in winter?
A mini chocolate fondant: 70g of 75% dark chocolate (Grand Cru Carrés Sauvages type), 1 egg, ½ banana. And 10-15mn in the oven at 170 ° C. I like this recipe because it requires very few ingredients and everyone is surprised by the result (the intense fondant with a very runny heart that we love). Bananas replace butter and sugar. In itself, a dark chocolate 75% is already sweet.
The 3 essential treatments in your routine? What is your favorite treatment at HO KARAN?
I need a face cream, makeup remover oil to clean it and massage it, and a hairbrush. I particularly appreciate the miracle balm Uses at HO KARAN which I like to apply on the face as a hydrating mask.
What makes HO KARAN x Carrés Sauvages CBD truffles unique?
Carrés Sauvages x HO KARAN CBD truffles are unique in their gourmet appearance coupled with well-being virtues. They are composed of raw cocoa beans bursting with antioxidants, low glycemic index coconut blossom sugar which provides minerals, white almond puree which provides good proteins and magnesium, hemp oil which is one of the richest oils in omega 3 (it also contains vitamins A, E, B1, B2 and B6), collagen for the radiance of the skin and CBD which relaxes the body. In short, each bite melts in the mouth to bring its share of tenderness and nutrients. It is the indulgent "nice treat" that is good for the body. Moreover, it is typically a super healthy and comforting snack in winter.
A well-being advice that is easy to apply on a daily basis?
Walk at least 20 minutes every day. We forget that walking is also a sport and getting into motion is the beginning of everything.
---
NEW: Discover the raw cocoa and CBD truffles HO KARAN x Carrés Sauvages here!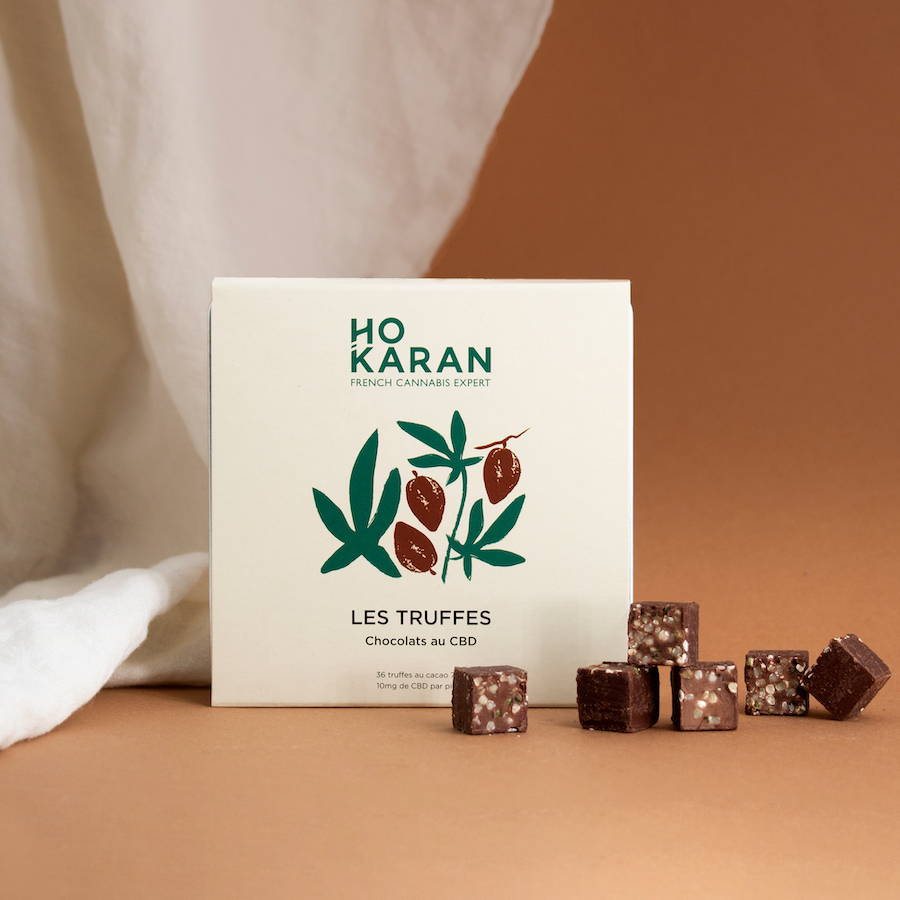 ---