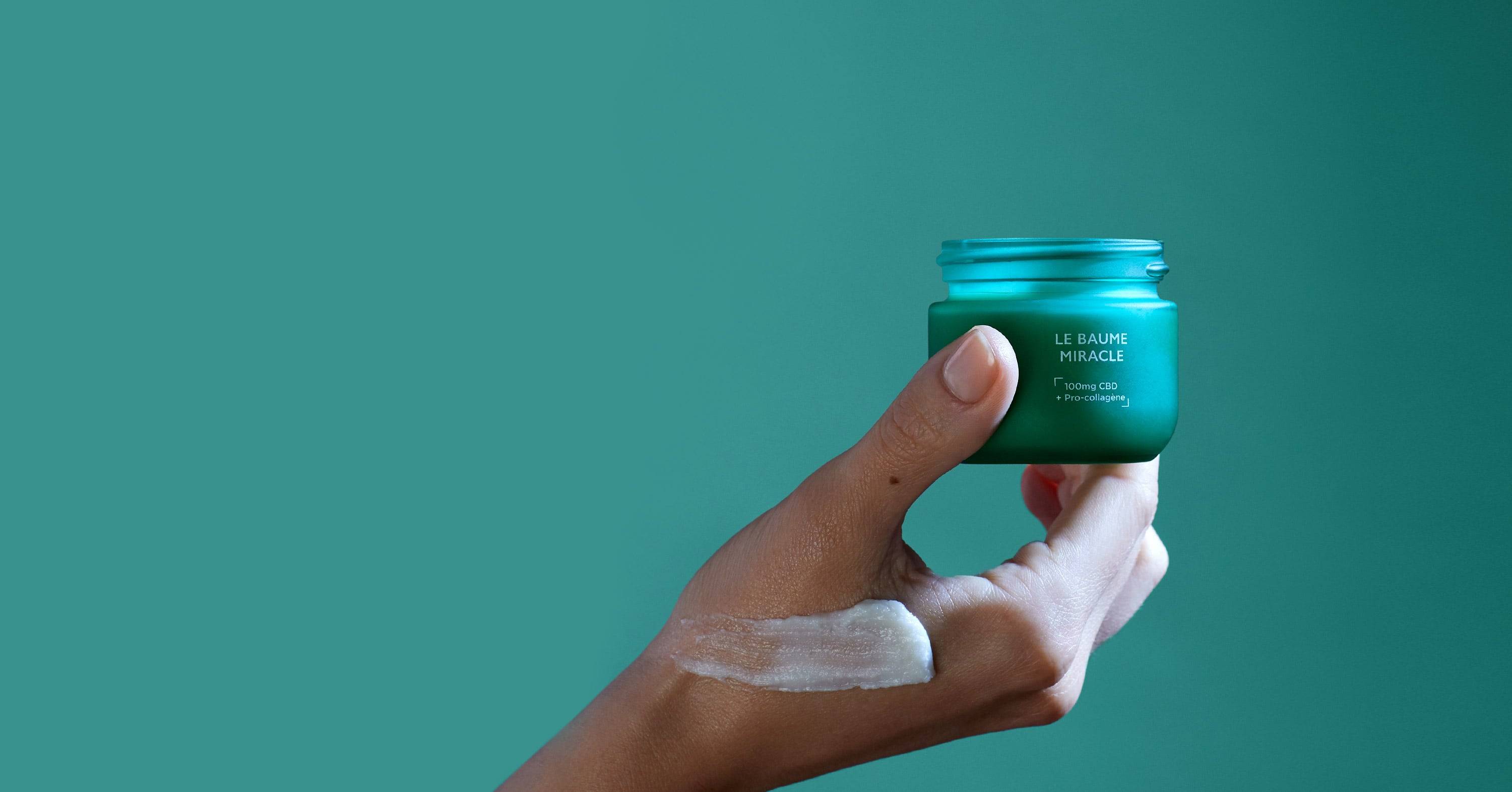 ---
Discover the Miracle Balm, an exceptional treatment with a melting texture formulated with hemp oil enriched with CBD and organic hemp macerate to regenerate and intensely nourish your face and body.
The regenerative benefits of CBD
To nourish the skin
Le CBD applied to the skin in the form of oil has a very interesting composition for taking care of all skin types. Its many benefits are no longer to prove! Rich in vitamins, essential fatty acids and antioxidants, hemp oil enriched with CBD helps regenerate the skin and protect it from aging.
Regenerating, revitalizing, nourishing, it can be recommended for application on the face, but also on the body to help regain suppleness and elasticity.
To facilitate sports recovery
In addition to contributing to the regeneration of the skin, hemp oil enriched with CBD may also be of interest. among athletes, since its regenerating benefits can be used to naturally regain muscle comfort. Anti-inflammatory recognized by several studies, CBD fights against natural inflammation caused by physical exertion, especially during intense training.
Applied to the skin in the form of massage after exercise, the oil enriched with CBD will help limit cramps, aches and muscle tension. It can be combined with other sports recovery techniques to quickly regain comfort.
Discover our multi-use Miracle Balm for the face and body!
The HO KARAN team is proud to present our new product: the Miracle Balm ! A true elixir, the Miracle Balm completes our REBOOT range and was designed to take care of your face, but also of your body.
HO KARAN miracle balm, an exceptional regenerating elixir
Formulated with hemp oil enriched with CBD, vegan pro-collagen and marine microalgae extract, the Miracle Balm literally melts on the skin! It does not leave a greasy feel and nourishes, soothes and regenerates the face and body.
We have added an exclusive HO KARAN ingredient: the organic hemp macerate. Obtained from hemp seeds macerated in organic sunflower oil, this innovative active ingredient moisturizes, protects and softens all skin types. Associated with hemp oil, it multiplies the regenerating power of Miracle Balm to take care of all skin types, even the most damaged.
Its balm texture makes it a exceptional care very pleasant to use, on the face as on the body, in beauty treatment or in massage on specific areas of the body.
Made in France and 100% natural
Like our entire range, the Miracle Balm is Made in France, and has a 100% natural composition.
CBD-enriched cannabis sativa oil is of organic origin, harvested in Brittany. The Miracle Balm is packaged in a 100% recyclable glass bottle, itself packaged in a case made from hemp fibers that is also fully recyclable.
How to use our miracle balm?
Multipurpose, our Miracle Balm can be used in several ways to suit all needs:
In facial treatment:

applied as a mask to leave on for a few minutes, as a course of several days or as a day or night cream to regenerate the driest skin and regain comfort in the event of rosacea or psoriasis;

In massage on the body:

after sport, to soothe pain, tension or stiffness;

In SOS care:

deposited on specific areas of the body such as the wings of the nose, lips or cuticles, to benefit from an ultra-nourishing treatment.

The Miracle Balm can be integrated into a full routine to reveal all its benefits. For example, if you have dry skin, apply a few drops of our L'Antidote Serum on your face, before protecting and moisturizing your skin with our Narcotic Cream.
In the evening, boost the natural regeneration of your skin with the Miracle Balm. To you the radiant and very soft skin when you wake up!
---
---