The HOKALM podcast
The first podcast to help you cope better with your stress.
One in two people suffer from stress in France*. And you might be one of them. We created this new format because we are convinced of one thing: together we can fight against this ambient stress and live more peacefully, thanks to hemp in our cares since 2015, of course, but also via advice, techniques and tips from experts and the most stressed !
In HO KALM, every week, Laure, the founder of Ho Karan, goes to meet personalities with inspiring stories: artists, athletes, entrepreneurs, medical and holistic experts… The goal? Offer you the keys, via concrete examples, for better channel your daily stress.
* according to Opinionway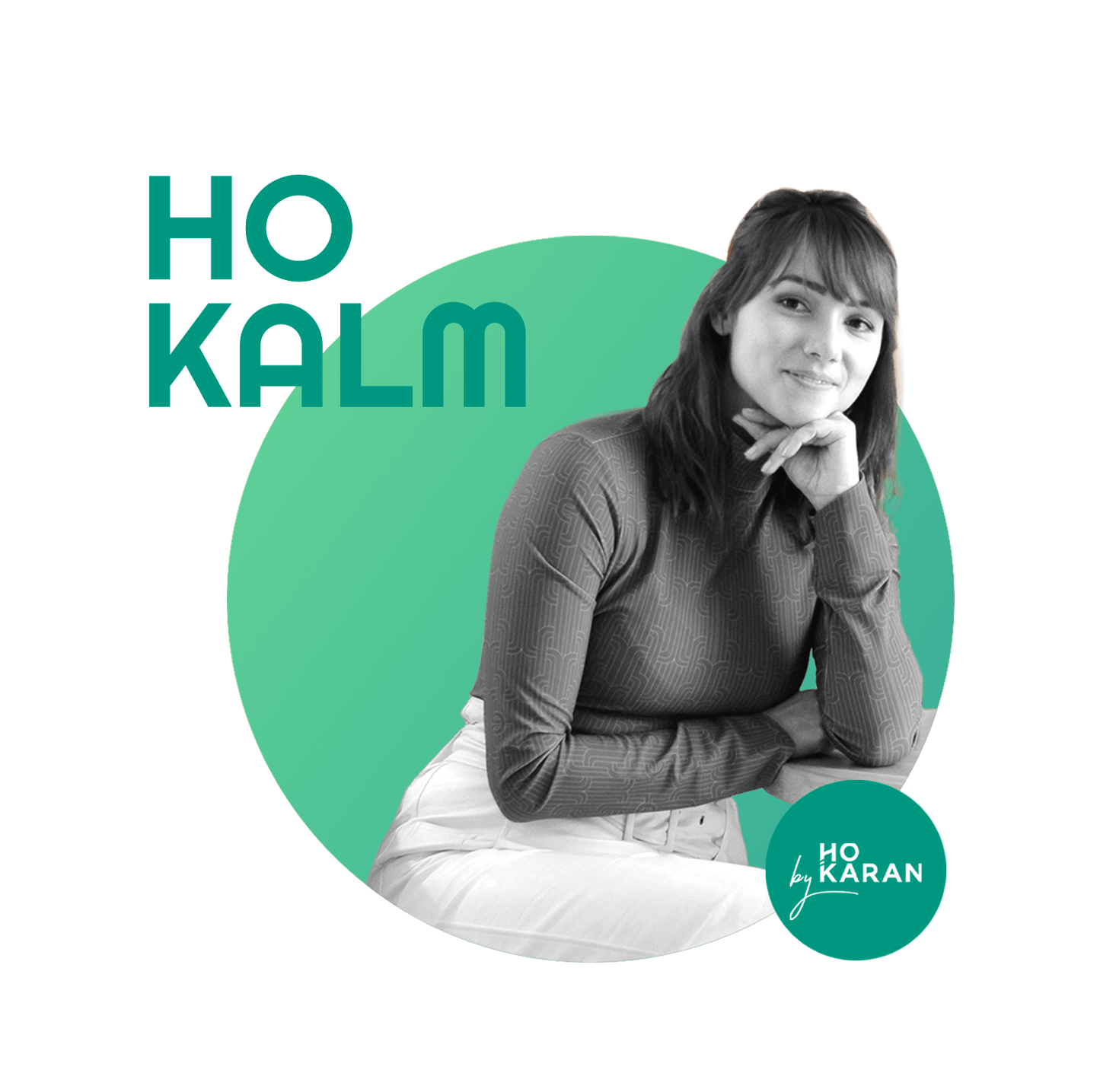 During the 10 years of Paulette, this hyperactive collapsed. And even though the mind can take the pressure, sometimes the body calls us to order. A vulnerable, generous and very inspiring testimony, around holistic experiences, each one crazier than the next.
EP02: Clement Dumais, parkour enthusiast and member of the Hit The Road collective
You have surely seen him on Ninja Warrior, or via his YouTube channel to 600.000 subscribers. His specialty for 10 years? Extreme sports, and more particularly parkour, therefore climbing street furniture. Clément hangs on cranes, climbs buildings, climbs roofs… He tells us how he channels his stress to achieve all these feats, which of course cannot be repeated at home.
EP03: Camille Azoulai, co-founder of Funky Veggie
You have surely discovered its healthy and gourmet snacks when you do your shopping: the "OUF" spread, the famous vegan-friendly energy balls, or the chickpea-based chips. His idea: to democratize healthy food (for the body and the planet), and to do it with a lot of pleasure. Camille has just lived through a very intense and stressful period: fundraising. She discusses the joys and sorrows of this frenetic period and the daily pressure that a business leader can experience, especially at 27 years old.
EP 04: Marion Seclin, actress
Actress, screenwriter, content creator… Marion expresses herself in a thousand and one ways. A few years ago, the latter experienced a wave of hatred after posting engaged videos. More than 40.000 messages in 4 months, death threats for 2 years… The one who declared herself "French Champion of cyber-harassment" in her TEDxChampsElyseesWomen, looks back on this episode of her life. Stress, insomnia, anger, support, self-confidence… And the way she transformed this ordeal into a source of creativity.
EP 05: Antonin Cohen, founder of Harmony
An activist entrepreneur now at the head of Harmony (hemp care), Antonin was the first to launch a company around cannabidiol in France - Kanavape - in 2014. And inevitably, a pioneer in a market with terribly vague regulations, he was confronted with innumerable legal problems: lawsuits, searches, up to a few hours in a cell. If the hemp sector has changed so much since then, it is partly thanks to him. In this episode, he recounts this tumultuous period during which he had to manage his stress like a top athlete: by preparing.
HS EXPERT #1: Eugénie Lambert Buckstein, founder of Studio Bloom - "Soothing yourself with meditation"
After a very trying career as a journalist at CNN, notably covering the latest attacks in France, Eugenie suffers from post-traumatic stress syndrome. It was mindfulness meditation, advised by a colleague, that changed her life. Convinced of the effectiveness of this practice for a better (and stress-free) life, she launched Bloom, the first meditation studio (and soundbath, yoga, massages, halotherapy…). Eugenie explains to us the way in which meditation acts on the brain, what are the real benefits (concentration, relaxation, prevention of stress ...), how to initiate young and old and / or create a routine at home (or at the Bloom studio for Parisians!).
EP 06: Valérie Tribes, journalist and founder of the Fashion Gasoil media
Journalist for 25 years, Valérie Tribes deciphers fashion in her own way: with Chiffon, the first French fashion podcast, and recently Fashion Diesel, a media of a new genre which is already a hit. Two years ago, while traveling, she was diagnosed with very advanced leukemia. The shock of the announcement, the reaction of relatives (and their stress, about which we speak so little, when faced with the illness of a loved one), the first chemotherapy treatments ... And very quickly acceptance. How did she deal with this emotional time? What rituals has she put in place to decompress? How has this ordeal changed her forever? And above all, what really stresses her today, at the dawn of her 50 years?
EP 07: Luciole, artist
An independent singer-songwriter, Luciole was also the French slam champion. Two albums, tours, first parts with artists like Oxmo Puccino or Camille, a song on the Grand Corps Malade album, a Tedx Champs Elysées… And yet, a chronic stress, which even hampers part of his life. spine. This artist engages in the pressure of the image, of perfection, of the race for followers in the musical field. On the fright before going on stage, on the rhythm of Parisian life. And especially the way in which she managed to let go, little by little, and keep her self-confidence. Massages, reading, breathing exercises… How does she take care of her body and mind?
EP 08: Jean-Pascal Barraque, professional rugby player
Jean-Pascal Barraque has been playing rugby since he was little, and he made it his profession: after Stade Toulousain, Biarritz Olympique or Stade Rochelais, he now plays alongside ASM Clermont Auvergne, with the French rugby team (of which he is captain), and the XV of France. In this episode, he tells about his daily life as a high-level athlete and the preparation to take the blows, literally and figuratively: the family pressure, the stage fright of a big tournament, the injuries (and especially during one of the matches the most important of his career), how to consider retirement at 7… We talk about stress before, during and after, about healthy living and especially how to find one's balance when one is in addition, father of family.
EP 09: Cathy Closier, founder of Season Paris restaurants

Serial entrepreneur for 20 years in one of the most stressful sectors, catering, Cathy is at the origin of Season, one of the first healthy restaurants in Paris (with 100.000 followers on Instagram)! In this episode, she tells about her meteoric rise after a year in New York, her journey made of happy coincidences, impromptu encounters and a sacred dose of work. Always smiling and full of good vibes, the one who embodies success today also delivers on her professional hard knocks (especially one in particular who changed her vision of things), her emotional disruption and the biggest stress in her life today. 'hui: his children.
EP 10: Camille Aumont Carnel, from the @jemenbatsleclito account

Camille is behind @jemenbatsleclito, the Instagram account of punchlines without taboos on the sex life of all women. Predestined to cook with the greatest starred chefs after the Ferrandi school, at the age of 24, she chose instead to raise her voice on social networks, to be where you least expect her. She talks about self-confidence, her relationship to adoption, the power of humor and self-mockery. Thousands of messages she receives, sometimes very heavy emotionally. From his relationship to notoriety, which makes him dizzy and often has anxiety attacks. She also indulges in the biggest investment of her life: her mental health. Psychic, coach, physiotherapist… His escape route, and the solution to taking good care of others on a daily basis.
EP 11: Kevin Le Goff, co-founder of Coast Barn

Kevin is the co-founder of Coast Barn, a Breton place of life that brings together a café, canteen, concept store, co-working office ...
An address immersed in nature close to his home, who left Paris for Finistère a few years ago. The good idea, the energy to invest, the roller coaster, Kevin knows. At 32, he has been an entrepreneur for almost 10 years and has already launched 3 boxes. In this episode, he tells the story of when he had to liquidate his last promising Swenson business. It was last fall, between two confinements. The first questions, the feeling of shame, financial stress and debts, fatigue (which leads to a fracture of the malleolus) ... He teaches us how to put things into perspective in order to bounce back better, why use specialists to make the right choices and especially how to stay aligned with its values.
EP 12: Géraldine Dormoy, journalist and Instagram coach

Géraldine Dormoy is a journalist and Instagram coach, but also one of the first French to have launched her fashion blog in 2005, Café Mode. 4 years ago, she discovered breast cancer during a mammogram, a transformative ordeal that she recounts in her book, "Un Cancer pas si grave", which forces her to refocus on the essential and to review all their lifestyle habits. She started out as a free-lance and since the Covid, triggered other profound changes: a journalist's hat and Instagram coach, a move to the south of France ... In this episode, Geraldine looks back on how cancer has changed his life. She describes the first hour: a unique moment in the day, between 5 and 6 a.m., where she finally takes the time thanks to journaling, meditation, running, kundalini yoga ... We talk about confidence and self-esteem, his relationship to social networks, his years of psychotherapy, eating disorders ,. And especially how to finally let go, and just do the best you can.
EP 13: Arthur Guérin-Boëri, freediving world champion

Arthur is a professional freediver, 5-time world champion and holder of 6 records today. In case of stress, we tend to say "take a deep breath" except that he holds his breath (and up to 7 minutes underwater). This is the most complete way, for this athlete, to He tells us about his meteoric rise in this niche sport (dynamic apnea), the mental strength to get out of his comfort zone, the reactions of the human body, underwater or under ice, and all the physical and mental preparation to accomplish these feats.
EP 14: Adrien Garcia, co-founder of Réuni

Adrien Garcia is the co-founder of the eco-responsible fashion brand Réuni. And usually it's him on the other side of the microphone in his successful podcast, Entreprendre Dans La Mode! Creative multi-hats, Adrien is a master in the art of organizing his life and listing his goals. He tells about his reconversion at 30 years after a romantic breakup, his conquering side and once a good student, his coaching experience, his relationship with death (anything but stress for him). He also shares with us a lot of keys for a more serene daily life and a life path all mapped out with a single goal: to make your dreams come true, and never stop putting things into perspective!
EP 15: And Why Not Coline

And why not talk about mental health with Coline? You've probably been following her for years (15 years if that is from the start) through her blog and social media. A hobby that became a career for this spontaneous, committed and very funny lifestyle content creator. To survive in the digital world is to know how to renew oneself, and from time to time to face criticism. An exhibition that is sometimes a source of stress for Coline, which she explains heartily in this episode (she also tells why she decides to cut everything 2 months out of the year in the summer). We also talk about the arrival of her second child almost 10 years after her eldest child, all the pressure that one inflicts on social networks especially during pregnancy, her depression and how to be accompanied. Learn to listen to yourself, know how to cut everything, preserve your privacy ... A testimony quite simply in your image, the real one, without any filter.
HS EXPERT # 2: Marie De Quidt, sex therapist

Often, the body expresses itself, and if sexuality can become a source of stress, our intimate moments sometimes reflect certain blockages. Marie is a sexologist, clinical psychologist and professor of sexology. In this expert episode, she returns to the link between stress and sexuality, and lifts the veil on certain subjects that are still - too - taboo: vaginismus, sexual addiction, pornography, hypolibido, masturbation, lubrication or the quest for performance… What happens in our brain during orgasm, and orgast (which we talk about much less)? Is sex a natural stress reliever? Why do we tend to put pressure on ourselves? How to gain confidence and regain your body at key moments? Our expert deciphers the ailments of a generation and shares her advice for a 100% fulfilling and peaceful sexuality.

Founder of the eponymous brand, Amélie creates joyfully quirky shoes, bags and accessories, and much more: an entire art of living, via a small company with a new vision, very far from the standards of an industry that is struggling to find 'balance. Amélie chooses common sense over profit. Passion above all else. This eternal optimist recounts the questions (and the stress generated) when one decides to steer one's boat against the tide. We tackle subjects such as eco-anxiety, bad taste, contradictions, success, her fascination with Pamela Anderson (with whom she collaborated!). And of course the notion of harmony: taking care of your mental health when you've always forgotten yourself, living in the countryside after a frenetic pace in Paris, enjoying doing nothing even when you're overwhelmed... Pregnant with her first As a child, this former shy girl talks about her fight to become a mother after 5 years of trying. A spontaneous, fresh, cheeky episode. Essential.
EP 17: Pauline Delabroy-Allard, author

1,4 million people in France have already written a manuscript (according to a Le Figaro littéraire-OpinionWay survey), and more than 400.000 people have sent their project to a publishing house. If Pauline is one of them, she is now one of a handful of lucky people who have embraced success. Published by Éditions de Minuit in 2018, his first novel "Ça tells Sarah" (a passionate love story between two women) is read all over the world, nominated for the Goncourt, and winner of the France Culture-Télérama prize. Pauline recounts this "tunnel of intense joy" but also the pain that inhabits it. So after telling Sarah, Pauline - who offers a window on her daily life via @cettepetitevie - reveals a little more here: her love story with her true soul mate, a woman, after having experienced a heterosexual relationship and the birth of a child 10 years ago. The daily life of a single mother (and especially the happy logistics). Coping with a spouse's illness. Then more recently the PMA course to become a mother again with his wife, "administrative homophobia" in a society which nevertheless tends to evolve, the mental load in this new pattern of life. The struggle to finally be recognized as a mother in the eyes of the law, and her experience of induced lactation (breastfeeding for a woman who has not carried the child). Pauline also talks about her episode of depression, her dream (sometimes) of loneliness and her ability to let go when everything escapes her.
EP 18: Celine Tran, ex-Katsuni

Well-being and sexuality coach, hypnotherapist, massage therapist, author, yoga teacher, lecturer, comic book collection director… Céline Tran designs her career according to what drives her and without limit. A former pornographic actress in the 2000s, she tells how she got involved in this sector, which is both very confidential and mainstream. Why this choice of life during her student years, she however shy and reserved. The gaze of others (especially parents) and the stress generated by this notoriety, the freedom she embraces by settling in the United States. The idea of ​​consent in pornography, hypersexuality and sometimes industry excesses - which, with the advent of the internet, is not the same these days! Then her desire to abandon everything to reinvent herself and detach herself from the label that has long been attributed to her. A deep reconversion that will take 6 years, and the beginning of her "real" life as she puts it so well. Passionate about well-being, Céline talks about her various explorations (yoga, self-hypnosis, massage, etc.), her relationship to the body and to spirituality, and above all the way in which she really calms down today: by taking care of others. .
HS EXPERT #3: Marion Baudier-Melon, nutritherapist

Nutritherapist specializing in female hormonal issues, Marion trained in nutritherapy / micronutrition in London. A reconversion after a burnout during his years in political communication, with one idea in mind: to live more peacefully.
An expert in female hormonal issues, her practice is full months in advance for consultations on endometriosis, PCOS, stopping the pill, cycle concerns, acne, hair loss, fertility … Contemporary female ills that simply require restoring the balance - we still have to find out how! In this episode, Marion talks about her vision of stress and its mechanisms on the body and the mind. She explains how important it is to consume the right micro-nutrients (and food supplements) when everything is -too- transformed, how to analyze the different physiological stresses (PCOS, hair loss, peri-menopause, fungal proliferation, chronic inflammation…), emotional stress caused by trauma, its impact on fertility…
Marion guides us on how to live more serenely on a daily basis: what foods to eat? How to let go to soothe the evils that can ruin our lives today? The latter gives us a global approach to health and well-being to better understand your body and tame your sensations.
EP 19: Josepha Raphard, Loma Club

At 27, if Josépha Raphard has a gift, it is that of celebrating women. Through her two documentaries, "Meufs" and "Mères" where she gives them a voice at key moments in life. On his Instagram account with instinctive, sensitive and liberating posts. Via the Loma Club, its "Pacific army", a platform to support young and future mothers and free the floor on motherhood (and all that this entails). The upheaval of maternity, Josépha knows. Mom for 2 years, she tells how this stage has changed her. Detect your traumas, take care of your mental health, accept your body, understand your blockages (especially after a traumatic childbirth), forget the mental load, let go. And above all love each other. The magic recipe? Benevolence, a bit of wisdom, a touch of self-mockery, a lot of freshness and spontaneity.
HS EXPERT #4: David Dupuis, anthropologist specializing in medicinal plants and shamanic tourism 1/2
David Dupuis is an anthropologist, specializing in psychotropic drugs and hallucinogenic substances. For 10 years, he has been conducting research on the use of these substances, and the globalization of certain plant beverages such as ayahuasca. In this episode, he recounts his experience in the Peruvian upper Amazon - an obligatory passage in contact with the local population for a year and a half, during which he studied, in particular, the globalization of shamanic tourism. What is a psychedelic and/or hallucinogenic substance? What is its impact on the human body? What is the difference with medicinal plants? Why do Westerners in search of well-being go to the other side of the world to test these new kinds of therapies?
EP 20: David Dupuis - "Ayahuasca, an effective remedy against stress?" 2/2
We all probably have a friend, or even a friend of a friend, who has gone to South America to transform his life thanks to Ayahuasca. What is this mixture with miraculous promises? Can these plants really change our view of stress, and especially of the world around us? During his various anthropology studies, David Dupuis, who studied psychotropic drugs and hallucinogenic substances, recounts his experience in the Peruvian upper Amazon for several months. How does a traditional ceremony take place? What are the effects on the body and mind? Confrontation with Laure, who tested the experience a few months ago in Costa Rica (and spoiler, yes, it changed her life).
EP 21: Alexandra Vignon, The Good Balance - "Overcoming adult acne, a symptom of stress"
Anthropologist by training, Alexandra Vignon of @thegoodbalance suffered from stubborn acne as an adult for many years. A nodular cystic acne, ie very inflamed, and one of the most severe even traumatic. She tells how her fight led her to explore many alternative medicines, until she trained herself: naturopathy, Ayurveda, yoga, sophrology... Today a certified coach specializing in the link between the skin and the brain , she accompanies women to find their own balance thanks to her programs, from a bodily but also mental and emotional point of view. A holistic, 360° follow-up, because Alexandra is convinced of it: adult acne comes from an imbalance caused by a lack of nutrients (particularly because of the impoverishment of the soil) and at the root, from a even deeper evil: stress and anxiety. How can stress cause breakouts? What is burn in, what do we tend to turn a blind eye to (wrongly)? Why, even with a healthy lifestyle (diet, sleep, sport), does acne persist?
EP 22: Léa Coutaye, Le Yogascope - "How traveling changed my life"
In 2019, Léa launched Le Yogascope, a travel agency with innovative retreats for all those in search of well-being. Yoga, but also ceramics, painting, surfing, personal development... With more than 100 trips to her credit organized in France and abroad, the one who had a future all mapped out in fashion shares the journey of her reconversion, of a stressful life punctuated by deadlines and unachievable goals to a daily life of fulfilled entrepreneurs. The break with his first life? A burn out, then a trip to Nepal. In this episode, we discuss the benefits of travel on mental health because Léa is convinced of it, there is always a before and an after: gaining height, getting out of your comfort zone... How can travel change everything? a life ? Are yoga retreats suitable for all profiles? Why go alone? What about the carbon footprint abroad when we monitor its ecological impact? How to succeed in really cutting back on vacation to come back 100% peaceful? A discussion that will probably change your summer, the start of the school year, and even the next few years of your life!
EP 23: Marine Baousson, comedian: "Nothing more formative than a flop on stage! »
Comedian for more than 10 years, Marine excels in the art of making people laugh and more particularly for her, creating a bond. She writes and co-writes several shows including her own Fearless, interprets La Lesbienne Invisible de Océan, and during confinement, launches her podcast Vulgaire, prize for the best Apple podcast in 2020, which has since been declined in books and shows throughout France. Always on the go at school, from a family where "everyone could have been a comedian", she discovered this profession in college and knew that she would make it her way. If going on stage no longer scares her today, if she has learned to manage flab and the waves of cyber-harassment, she recounts her biggest stresses of the moment: getting out of her comfort zone, putting herself in danger and fail to cut. Hard at work, Marine learns hundreds of pages for her show and multiplies the projects. Her body often calling her to order, she bought a house in Brittany to enjoy a peaceful life without social pressure with her partner last year. Because for her, only one remedy for anxiety: her entourage. An episode that comes to close this season 3 of HO KALM, where we evoke the questions of success, fears and laughter, one of the most powerful vectors of well-being!
EP 24: Mathilde Cabanas - "Sleep is the pillar of my mental health! »
An illustrator full of joy and mischief, @mathildecabanas made a name for herself 10 years ago thanks to her emblematic "Bisou". A partner and a small team, tons of collaborations (Aigle, Balzac Paris, kerzon, Veja, Lotus…), a family life with 4 children… Mathilde shares her secret for being so relaxed in life! We talk about letting go, organization, Fort Boyard (yes) and lifestyle (spoiler: sleep, stopping sugar, sport, the dream digital detox…), but also about guilt and of baby blues. An episode, like one of our favorite Nantes: fun, sweet and full of good vibes to start the year off right!
EP 25: Lucile Woodward - "Sport, food and the mind in the face of stress"
A former scientific journalist, Lucile Woodward has been a sports coach for 15 years. His philosophy? Do good without hurting yourself. No diet or intensive programs, the coach "real people, not stars" as she says, favors sustainable fitness. And his "Body By Lucile" method (today "Wellso") based on the balance between sport - diet - mentality has already converted tens of thousands of women!
In this episode, Lucile looks back on the culture of sport in her childhood, from her parents' education to her past as a swimmer, she discusses her retraining in this universe (coaching, content creation, business management) and tells without filter, which sometimes annoys him in this environment.
We also talk about financial investment in oneself, the life of a tightrope walker when one wants to be a present parent, without forgetting oneself completely. Involved in issues related to stress, Lucile enlightens us on the impact of sport on mental health, on how to find "the click" to embark on a regular practice, and finally shares her greatest secrets for living peacefully. An example to note? The experience of cognitive-behavioral therapy to find sleep, and meditation! An episode rich in lessons for accepting yourself, getting active, and above all not feeling guilty anymore.
#5 Expert: Marc Loriol, sociologist - "stress at work"
Sociologist and researcher at the CNRS, Marc Loriol has been interested in well-being at work for more than 20 years. For his research and his books (such as "I stress therefore I am" (2006), "The time of fatigue" (2000) or "Passionate work" (2015)) he studies the stress experienced in the professional world by following diverse and varied trades: hospital caregivers, volunteers in the world of music, employees of small businesses or public services, workers, police brigades...
In this episode, he gives us concrete examples of his vision of stress at work. The automation of tasks, the loss of autonomy and human contact… So many factors which, according to him, can lead to discomfort at work, even to exhaustion in certain cases.
How to detect the signs of an inadequate organization at work? What is the employer's role in relieving the stress of its employees? What is the key to a more peaceful daily life at work in a system where everything must always go faster?
We talk about intersubjectivity and alexithymia, the notion of stress through the ages, burn out and bore out, and above all, a certain idea of ​​mutual aid and the collective (or, the key to appeasement!)
#6 Expert: Clara Erjavec (1/2) - "The perineum"
Physiotherapist for 10 years between Bordeaux and Paris, Clara specializes in manual fascia therapy and perineology. His mission ? Make women aware of their perineum as soon as possible, an area that is (wrongly) often made aware of during maternity and childbirth, and not before. Result, a bad behavioral hygiene (facilitated moreover, by the stress) and consultations for urinary leaks before 30 years, even descents of organ (yes). In this first episode, focus on the perineum. An exchange that concerns both women and men, in which Clara reveals the kept secrets of this organ as powerful as it is unknown. We learn to relax, to breathe and even to pee or poop without going haywire internally. Enough to solve many problems such as migraines, chronic fatigue, memory and concentration problems, back pain, heavy legs...
#6 Expert: Clara Erjavec (2/2) - "Fascia"
In this second episode, Clara tackles the fascia, an organ in its own right, even more misunderstood than the perineum. This internal mesh (often compared to the partitions of a grapefruit) which connects and envelops all our organs weighs 30% of our total weight! Fun fact: we've only been interested in it for 20 years. How to feel it? How to take care of it ? And above all, what is its link with stress? We talk about osteopathy, manual therapy and practices such as the munz floor and Rolfing to relax the body, and therefore the mind.
EP 26: Magali Payen, On Est Prêt - "Eco-anxiety, the evil of the century? »
Film producer, Magali Payen likes to tell stories AND raise awareness. In this idea, this committed entrepreneur has already launched 3 entities: "Newtopia", her production company (with Marion Cotillard and Cyril Dion as partners) to incubate new imaginations, "On Est Prêt", the citizen mobilization movement in particular behind "The Business of the Century"; and "Imagine2050" the company with a mission capable of supporting small and large structures. Its credo: imagine the world of tomorrow, and make us take action! The International Psychoanalytic Association has recognized climate change as the greatest public health threat of the 59st century. So this year, Magali is launching a major campaign on eco-anxiety. The goal? To make this feeling recognized (which affects 16% of 25-XNUMX years according to The Lancet), challenge the media and politicians, then take care of the eco-anxious and encourage them to mobilize. How is eco-anxiety expressed, is it rather positive or negative in the end? solastalgia, collapsosophy? e to situate on the pyramid of commitment, and how to move the lines on its small scale? In this episode, Magali discusses her first clicks, her vision of militant purity and her best tips for putting things into perspective.
Episode 27: Julie Mamou-Mani, @mamouz- "Laughter as therapy"
Better known as @mamouz on Instagram, Julie Mamou-Mani is a journalist and "good-humored producer" as she likes to say. Having worked on Canal+, Europe 1 or even M6, Julie is above all a "maker" who is anything but afraid of reinventing her profession. During confinement in 2020, she gained almost 100.000 subscribers on Instagram with memes to amuse the gallery, and above all to play down the unprecedented situation that we were encountering. Funny by nature, she became more deeply interested in laughter the following year by publishing her first book "PTDR: for a therapy of laughter", based on interviews with specialists, scientific studies and facts of life. news. Self-mockery, the "chariade", puns... Humor according to Julie, helps us through the greatest trials of life. To go further, she even graduated in laughter yoga - a little-known and yet essential practice for letting go of the pressure, seeing your daily life differently and having fun with nothing! Laughter as therapy is the theme of this refreshing episode to learn how to keep your child's soul and see life with rose-colored glasses, whatever the situation.
#7 Expert: Eva Drozdowski, psychologist - "Neurofeedback and EMDR"
Psychologist, Eva @psycho_neuro_info is also an EMDR (for Eye Movement Desensitization and Reprocessing) and Neurofeedback therapist. His speciality ? Soothe trauma through brief therapies (she even wrote a book about it a few months ago, "Manual for healing from trauma with EMDR"). It was during her first experience as a work psychologist in a large group that she was confronted with the burnout experienced by many colleagues. Amazed, she looks for an effective and fast way to relieve all those who suffer from it. Specialist in neuroscience, she explains the impact of stress on our brain. Why does stress actually affect our ability to concentrate, our decision-making, our mood and the quality of our nights? Who is EMDR for and how can simple eye movements desensitize us to a painful event? How to choose your therapist and re-educate your brain? What are brain frequencies? An episode rich in lessons to familiarize yourself with technical practices, little known, and terribly effective for a more peaceful life.
#8 Expert: Anne-Gabrielle Saint Joigny, integrative coach - "To fully live one's humanity"
Franco-Spanish, Anne-Gabrielle from @serendipitycoaching is a certified integrative coach and MBSR (Mindfulness-based stress reduction) instructor. "Me versus my environment" is what Anne-Gabrielle has been passionate about for years. Sensitive to Feng Shui, energy treatments such as Reiki and brief therapies such as NLP (neuro-linguistic programming), she deepened her knowledge of meditation during her years in the United States, from 2007 and trained in yoga and to shamanism. What is coaching for professionals and individuals? Who is the MBSR protocol for and how can it change a life? With this expert, we explore the different responses to stress: Fight or Flight (which you must have heard before), and Freeze, the blocking reaction. We talk about the benefits of social and emotional ties to live better with stress, and the importance of injecting pleasure into your daily life (which we too often forget in favor of productivity!). In this episode, Anne-Gabrielle offers you concrete keys to getting to know yourself better and coping with stressful periods at work and in everyday life. Bonus at the end of the episode: a little exercise (STOP) to learn how to refocus immediately when the pressure mounts!
Learn more about our universe